Metrobus Rawalpindi To Islamabad Route Map Final Details is available on our website. Prime Minister Nawaz sharif and the chief minister of Punjab Mian Shahbaz Shaif will be inaugurating the Metro bus project Rawalpindi to Islamabad. This is almost 24 kilometer long metro bus route. It will start from flashman Hotel Rawalpindi Saddar and will terminated at Pakistan Secretariat Islamabad. CDA traffic Engineering Director Azam Ladi said the Asian Development Bank had already completed the feasibility study of the project. The final feasibility report will be completed by next month and tenders will soon be floated in the international media. Total cost of Metro Bus project is about rupees 44.21 billion which also include a signal free interchange at Peshawar .The Metro bus project will be completed in 9 to 10 months. In Islamabad the total cost of the project is 4.7 billion. Federal and Provincial government will contribute in mega project 15% of total cost.
Metrobus Rawalpindi To Islamabad Route Map Final Details
Metrobus Rawalpindi station name.
Flashman's Hotel cantt.
Mareer Hassan
Liaqat Bagh
Committee Chowk
Benazir Hospital
Chandni Chowk
Rehman Abad
Sixth Road
Shamas Abad
Faiz Abad
Metro Bus Stops/Stations in Islamabad
IJP Road
Ninth Avenue
Jinnah Avenue
Blue Area
Pak Secretariat
Rawalpindi city portion will elevated and Islamabad city side will on the ground.
The metro bus track starts from Flash man hotel chowk on Muree road and the track of Metro bus will be end at Pak secretariat. It will covered total 23.2 km distance. The Metro bus track will cross via Murree   road, Faizabad Rawalpindi road and IJP road and 9th avenue and  Jinnah avenue of islambad. For the metro bus project total of 24 Modern stations will be built for the passengers. 10 stations will be built on Murree Road and the remaining stations will be in Islamabad. In starting 60 metro bus will be available on track form Rawalpindi to Islamabad. Metro bus mega project will facilities to 150,000 passengers. The total required land for this mega project is 29 kanals and 20 kanals will be required on Murree road Rawalpindi. The Prime Minister nawaz sharif   instruction there would be no environment effect of the project to the green belt. now we hope you can understand Metrobus Rawalpindi To Islamabad Route Map Final Details.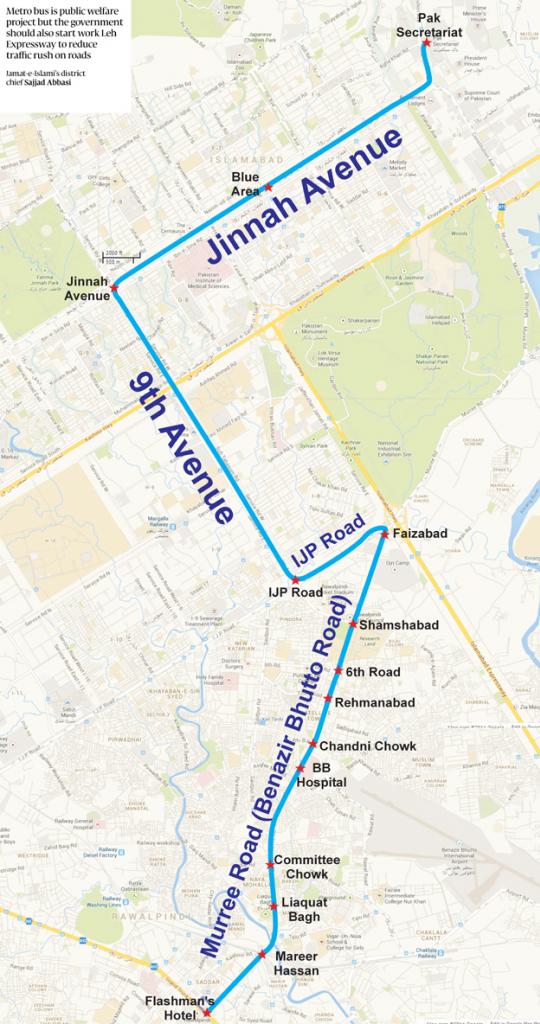 if you want more interesting news and updates then stay with us .