Looking for Careem head office to make a contact with them? Here I am giving you complete details about careem Islamabad office address, helpline contact number. Through the way of this post you can get any update or recent news about to ride, captain or registered with Careem as a driver. After making a huge success and name in Lahore and Karachi, now Careem has made its way into the city of Islamabad. It has been reported out just newly that Careem is soft launching its services in Islamabad that made it turn out to be one of the first 360 degrees on-demand cab service of the capital city. From 28th March 2017, this Careem Service will be all accessible for the people of Islamabad as through the mediums of the application as well as phone and website too. Keep on reading this post now to get further about Careem Islamabad office admission, helpline contact number and other details to make a contact with it.
Careem Islamabad Office Address, Helpline Contact Number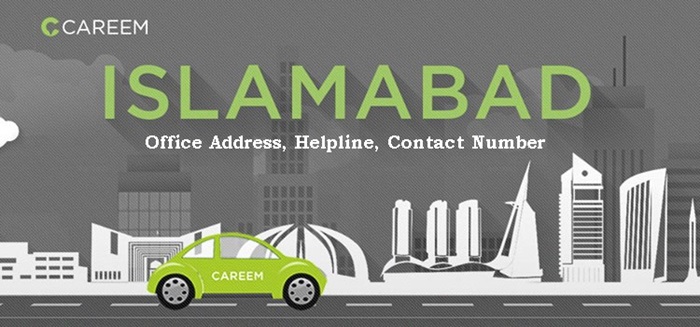 Introduction About Careem Service:
                Careem Service was started in the year 2015. They have set up their service chain as in almost 26 cities across the region from Dubai to Riyadh, Morocco to Doha, Karachi to Lahore and now they have made their way to Islamabad. Careem has been offering the day and night services to the people in the wide range of the Pick & Drop options for the customers, in order to make their journey a complete hassle free. To make the use of Careem you can either pay cash or add your debit/credit card into your account pay seamlessly without putting yourself into any involvement of the cash.
How to Book Careem Service Rides?
              You can book the Careem service in Islamabad through the below mentioned sources:
Careem Android or iOS Application
Through Careem Wesbite
Careem Helpline
It has been mentioned out that Careem has just started its service for the sectors within Islamabad areas only. Rawalpindi is currently not the part of this service.
About Careem Rates for Islamabad:
                  The rates for Careem service users in Islambad are as follows:
Basic as Rs.150 + (Per Km fare: Rs. 25 / Km) + (Waiting: Rs. 4 / Min)
Basic as Rs.350 + (Per Km fare: Rs. 25 / Km) + (Waiting: Rs. 4 / Min)
List of Careem Islamabad Office Address
Address: Meer Arcade, Fateh Market, G-9/3? Islamabad 44000
Open today:  9AM–9PM
Address: Main, Kashmir Hwy, Islamabad
Open today: 9AM–9PM
Careem Islamabad Office Helpline Contact Number
Phone: 0332 5355146
Phone: 0310 1540175
These details are about Careem Islamabad office address as well as the details of Careem Islamabad office helpline contact number is all written here. You are getting complete details for Careem head office Islamabad details and I am sure you are inspired of it and contact this company for more details.