Bara Dushman Bana Phirta Hai Lyrics in Urdu details is available here. Zarb e Azb Pakistan country army operation is continue and also achieving huge success. Pakistan Nation and Army are on one page for right objective. 16 December 2014 changed Pakistani people life, yes this is a reality Pakistan country and Pakistani people are facing attacks, bombing and killing meters since last 15 years. Our Country Pakistan is on undeclared war but all attacks and killing is small as compare to Army Public School Peshawer Attack. On 16 December 2015 Our Scholl going children were killed by terrorist.
Bara Dushman Bana Phirta Hai Lyrics in Urdu
Army Public School Attack Short History:
On 16th of December 2014 seven gunmen were entered in Army Public School Peshawer at 10:30 AM. All Militants were adopted Frontier Corps look through Pak Paramilitary force uniform. On 10:30 AM Peshawar School almost 100 Plus Children were available In School exam hall. All Seven terrorists were attacked on hall with guns and almost all children were died included School principle. After this attack Pakistan Army and all political parties were started Zarb e Azb operation.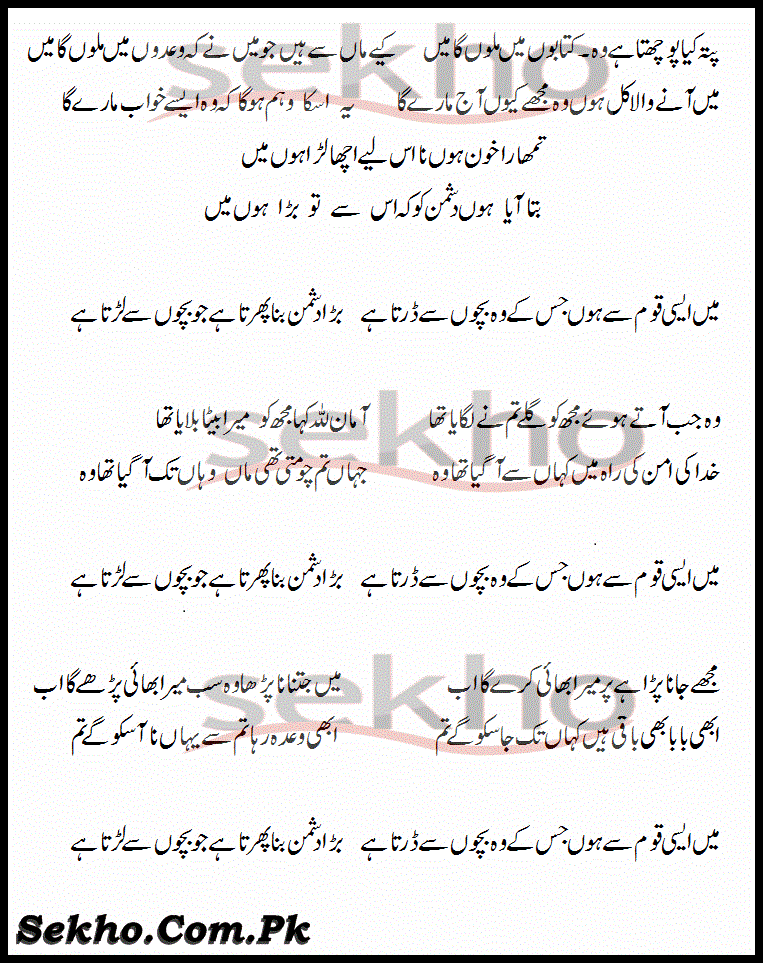 Mujhe Dushman Ke Bachon Ko Parhana Hai
ISPR Songs after Army Public School Attack:
In December 2014 ISPR released one tribute song for all Children who were killed during Army Public School. On 16th of December 2015 one year is complete. All Pakistan nation and Arms forces are giving tribute to all APS Martyrs. ISPR first tribute song is bara dushman bana phirta hai Bahco sy Darta ha. In December 2015 Pakistan Army ISPR also released sequel of bara dushman bana phirta hai song. You can also read mujhe Dushman ke bachon ko parhana hai lyrics song. At the end of brief with lot of emotion and sadness we are sharing object of these songs. Through these songs our School Children want to give peace message for all terrorist.