Pakistan's Defence day history is very interesting and memorable for us to get a lesson of unity and concord. Here I have written the 6 September 1965 history of Pakistan in Urdu that will make you feel like you are watching a slide show. 6 September 1965 is a very significant day of our armor history. This day commemorate us the unity of Pakistan Army and general public for the defense of Pakistan against the aggressiveness of Indian army. On this day the brave Pakistani citizens as well as the armed forces present the harmony and snatch the independence from Indian armed forces that suddenly attack on Pakistan on this day. But how the Pakistan repels and answers them is really an up to the mark work and becomes an illustration of bravery and unity for the upcoming generations. The plan of Indian army was to do breakfast in Lahore's gymkhana. Yes of course!  But we make defence it and make the Indian army to turn back their steps even it become tough for them to hoard their lives. Keep on reading this post to get the further details about 6 September 1965 history of Pakistan in Urdu.
6 September 1965 History Of Pakistan In Urdu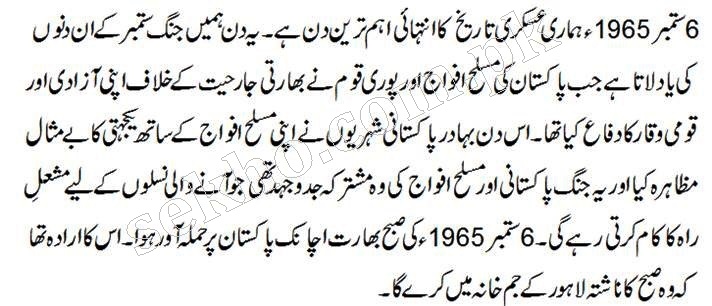 Actually 6th September has an inaugural equity in our national history. When we turn back the pages of this historical chore we see that how Indian show off their coward, deceiving, and reckless intentions towards Pakistan. The main agenda of Indians was just to keep the Kashmir under their charge but Pakistani Government fails their plan to charge over the India and that's why they get ready to attack on Pakistan.
So in the morning of 6th September it was the time of Nama- e-Fajar and Muslims were awaking to offer their prayers. Suddenly breaking news on TV and radio releases that Indian army has attacked on Pakistan and war has begun. In those places where the TV and Radio were not available the Mosque's speakers were loudly announcing to stay home and off the lights keep in rooms as well as much other war related precautions were telling to people so that they can save their lives.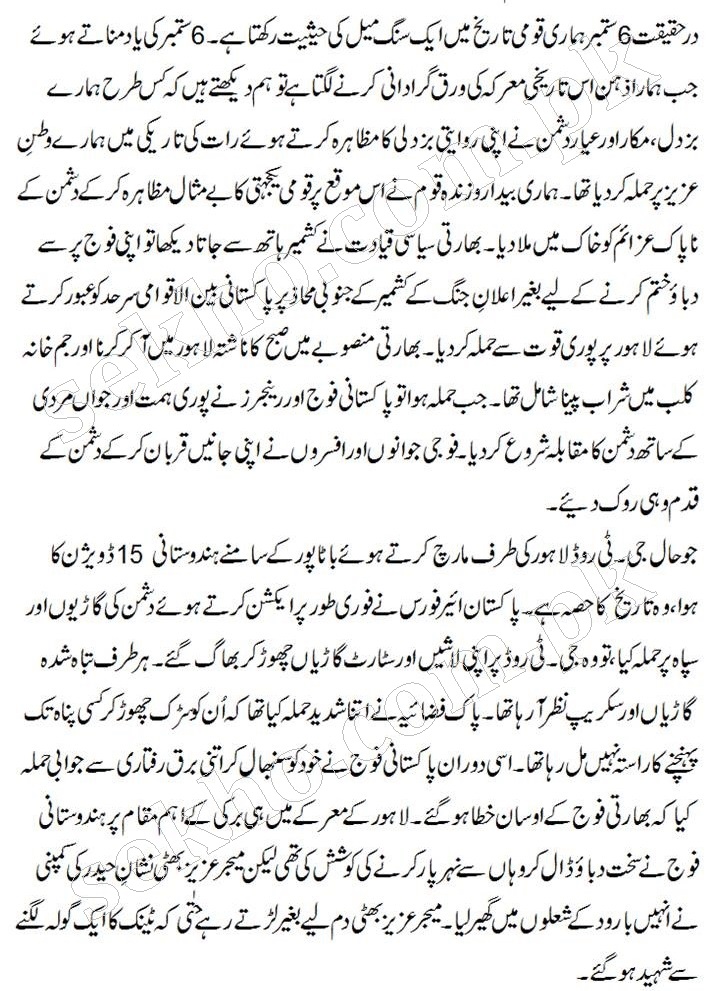 On the other side, the Pakistani Army get erected in neon seconds and brave Pakistani national also stand up to fight against the Indians with full of zeal and zest. Under the instruction of Army the Pakistani nationals were performing their role in a very impressive way. In these circumstances the Pakistan Air Force performed a very notable role. One battalions of Indian army named as 15 Division was rapidly step forwarding in Lahore. But how PAF started showering the bullets and rocket launchers on these battalions make Indians shocked and confused.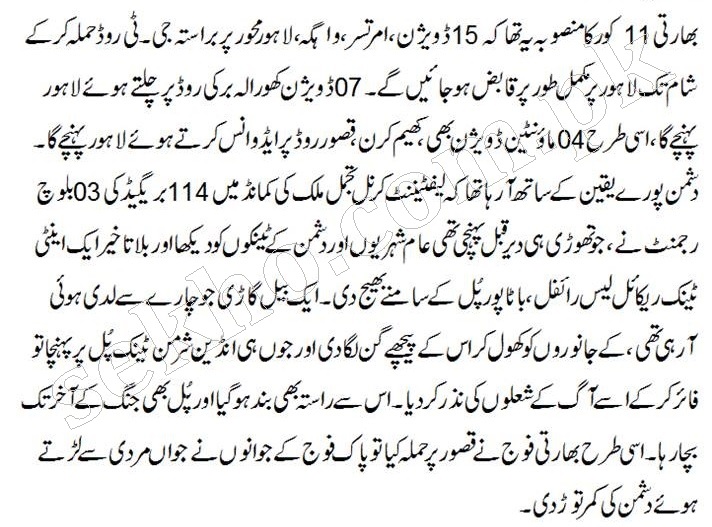 Major Raja Aziz Bhatti (Muhafiz e Lahore) played a very brave task on this juncture. Aziz Bhati surrounded the Indian 11 corps at the point Bambawali-Ravi-Bedian Canal (BRB Canal) Jallo Lahore. Although Major Aziz Bhatti become a martyr during this fight but he step back to Indian to enter into the Lahore and prevent them to rule over the Pakistan. In results the ceasefire orders were issued and Indian turn back to their home with a bad defeat by Pakistan. Pakistan won this war and this day become the Pakistan defence day 6 September 1965.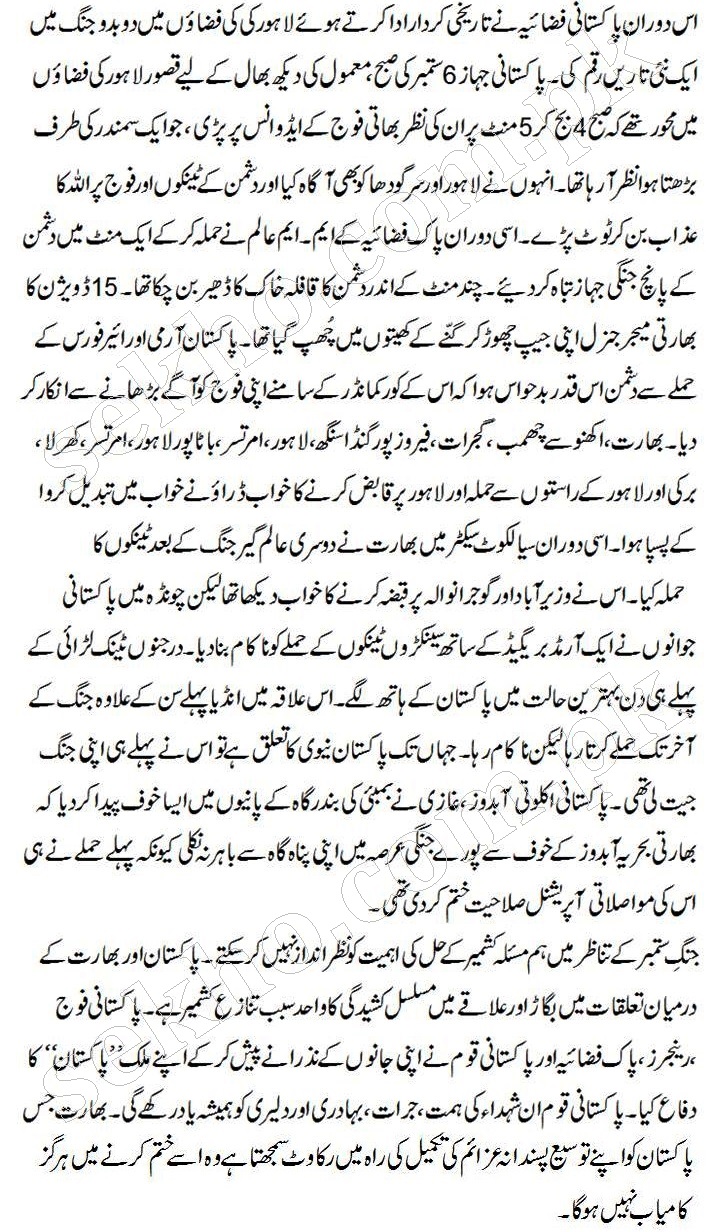 This is a public holiday and people use to go to borders to commemorate their success against Indian. We should love and fair with your motherland. Keep in mind this 6th September 1965 history of Pakistan in Urdu in our minds.