Dawood College of Engineering and Technology that is Degree-awarding Chartered Institution is finally starts to intake applications applications against this admissions Notice for Session 2012-2013. Remind that this admission notice is for 13th Batch of Engineering. Before we further discussed about admission Schedule we will gives your an overview about Dawood College of Engineering and Technology. Actually this is one of the premier institution of Pakistan. Application are invited against Bachelor Degree courses including Architectures and Planning,Chemical Engineering,Computer Engineering,Computer System Engineering,Electronics Engineering,Energy and Environment Engineering,Industrial Engineering and Management,Metallurgy and Materials Engineering,Petroleum and Gas Engineering and Telecommunication Engineering.Actually in previous News paper DCET admission Announcement on 30 September 2012 Last Date for Issuance & Submission of Application Forms extended up to 25th October 2012.
DCET Admissions 2013
Actually Dawood College of Engineering and Technology Karachi starts admissions against Nominations,Self Scheme,Sports Category.Applying for admissions in DCET is easy. Applicants may be admitted to the university if they have
    Completed secondary education
    Fulfilled the minimum grade point equivalency
    Provided required official academic records
    Pass entry test and
    Met the appropriate deadlines.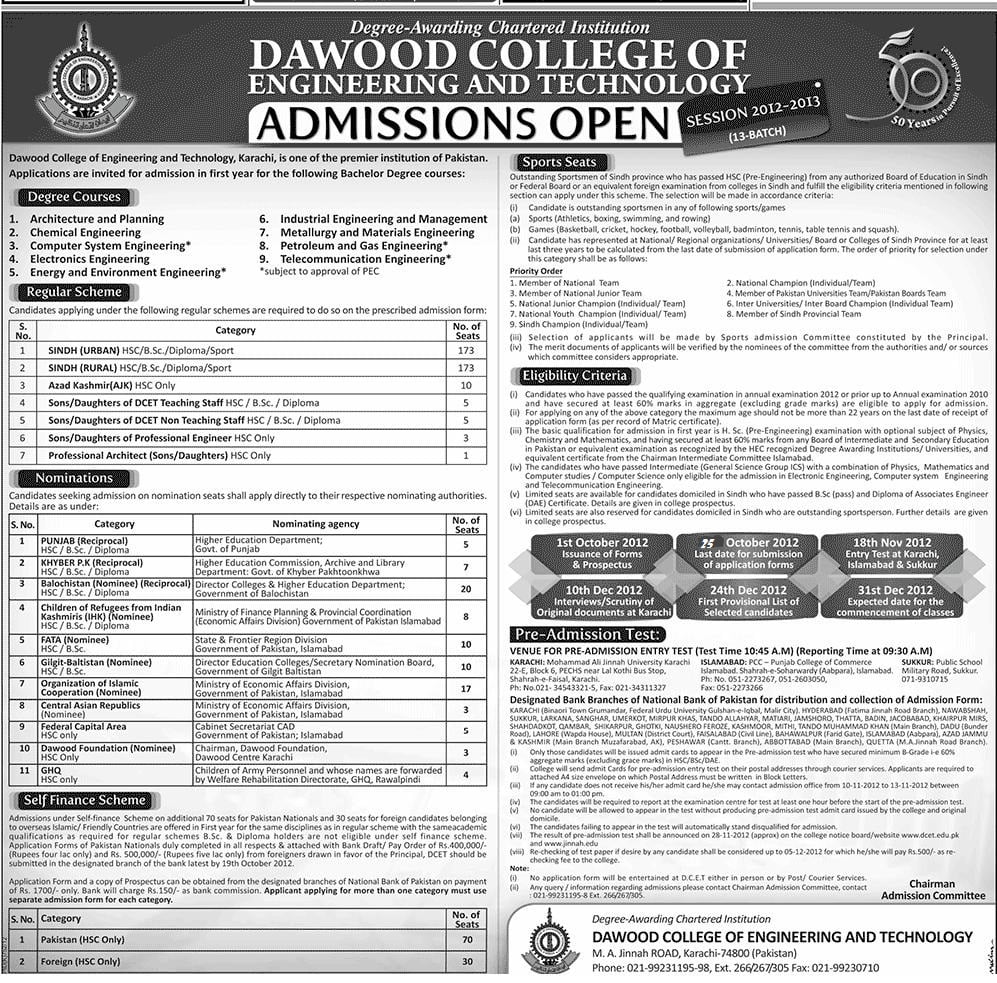 Documents Required:
Photo copies of the following documents be attached with the application form (in triplicate).
    Recent passport size photographs (12 Nos)
    Domicile certificate
    Permanent Resident Certificate (PRC)-C-form.
    National Identity Card (NIC) / B. form
    Matriculation Pass and Marks Certificate.
    H.S.C. / B.Sc. / Diploma Pass and Marks certificate.
    Migration Certificate
Application without above listed supporting documents shall not be considered, original documents shall however have to be produced at the time of scrutiny/interview.
Contact Us:
M.A Jinnah Road
Karachi-74800
Pakistan.
Phone: 99231195-96 ext: 267-261
Comment Section is there for you so that you can share your views about Dawood College of Engineering and Technology Karachi here at this page with us.