Details,Procedure,Schedule, Deadlines and all the details about Forman Christian College Admissions 2014 BA/BSC is available here. The Forman Christian College University is a private chartered university located in the residential area of Lahore, Punjab, Pakistan. It was established in 1864 by American Christian activist and academician Dr. Charles William Forman, it gained university status granted by the Government and offers various academic programs for undergraduate and post-graduate studies. Since its establishment it has reputed itself as one of the premier institution of higher learning in country in various academic disciplines. Admissions are open here in Forman Christian College 2014 for BA (Hons) / Bs (Hons).Here you will get all the detail regarding to this admission. For applying you can get online application form. Admissions for Baccalaureate are open now apply online on the official site of FC College. The majors are currently offered in BA/BS programs are also given here in this post. The candidates interested to get admission in FC College are offered to apply but before this there will be a entry test too. So be prepared for the entry test.
Forman Christian College Admissions 2014 BA/BSC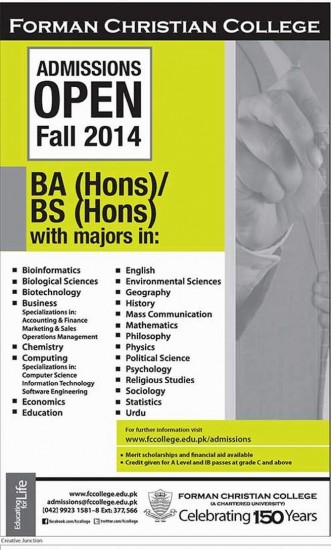 Forman Christian College is giving high and best standard o education, they have experienced staff, peaceful Environment, best classes and all aspects are well managed related to education.  FC College is the oldest college in the Pakistan; it is celebrating 150 years of its career. the mission of FC college is to import, create and disseminate knowledge and to develop informed ethical and responsible citizens, who are prepared to learn, lead and serve, who live by the college motto ''By Love Serve One Another. And the Vision of this college is also so irresistible, is to be recognized as one of the very best colleges in the entire subcontinent. So you must apply there for becoming a part of their mission and make their vision true. Admission is open in Formal Christian College 2014 for BA/BS Hons.
Form will be available on college website on: Monday 23 June to Friday 18 July 2014
Last date for  Submission of Applications:       Friday 18 July
Classes begin: October 2014
Submit the form in the Admissions Office Ahmad Saeed Administration Building. 
The Following Majors are currently offered in the BA/Bs programs:
Major
Specializations
Biological Sciences
Biotechnology
Bioinformatics (Evening)
Chemistry

Organic
Physical
Inorganic

Economics
Education
English
Environmental Sciences
Geography
History
Mass Communication
Mathematics
Philosophy
Physics
Political Science
Psychology
Religious Studies

Islamic Studies
Christian Studies

Sociology
Statistics
Urdu
Click Here For More Information's: