Admission Process, Criteria, Deadlines and all other information including Eligibility Criteria for Forman Christian College FCC Postgraduate Admission 2017 are available here. Forman Christian College University is a private chartered university located in the residential area of Lahore, Punjab, Pakistan it was founded in the year of 1864 by American activist and academician Dr. Charles William Forman, it gained University status'' given by the government and offers various academic program for undergraduate and post-graduate program studies. Since, it has got reputation as one of the premier institution of higher learning in the country in various academic disciplines. As of the year of 2013, the university is currently rank as one of the top institution in general category by HEC It is one of the oldest and providing high level educations in Pakistan. Students are allowed to apply for the PhD and M Phil programs. SO is the chance for candidates to apply soon because the admissions are open for a limited time, FC college is also offering you evening programs so it is easy to study in evening , For the year of 2017 Forman Christian College is offering you the following postgraduate degrees:
PhD Biotechnology
PhD Chemistry
PhD Physics
Executive MBA
MBA
Executive MA Public Policy
Mphil Public Policy
MPhil Biotechnology
MPhil Food Safety and Quality Management (Evening)
Mphil Molecular Pathology and Genomics (Evening)
MPhil Chemistry
MPhil Physics
MPhil Applied Economics
MSc Economics (Conventional, Evening)
MPhil English (Evening)
MPhil Political Science (Evening)
Forman Christian College FCC Postgraduate Admission 2017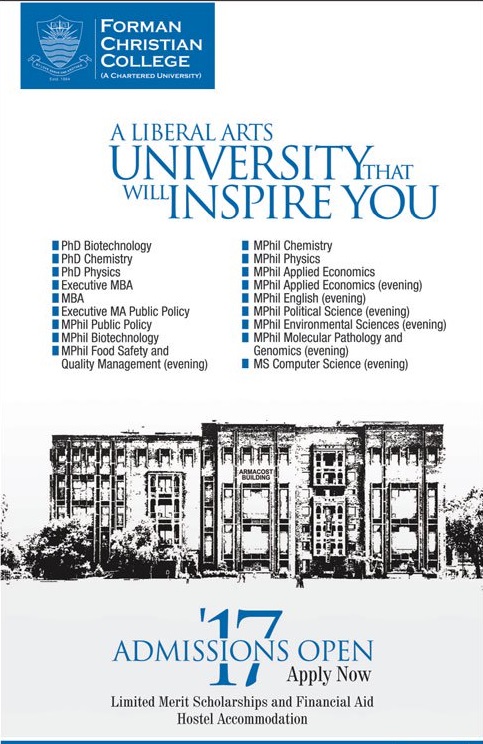 Admissions Open: 1 June 2017
Application Deadline: 24 July 2017
First merit list displayed: 04 August  2017
Classes begin: 21 August 2017
Candidates want to apply Fill the online form given here, and don not miss out any information, secondly print the form and attach the required documents, requirement; eligibility Criteria is different for every Program and Degree. Moreover you have to send your 2 recent passport size photographs, CNIC copies of yours and Guardians, Processing fee of Rs 2000 must only be deposited in HBL Branch, FC College. Candidates are informed that you must write your name and admission tracking number on the Chalan from; otherwise payment will not be processed.