You can get the details of the Wild Venture Water Park Karachi Ticket Price 2022 Timing here. The time has come to start an adventure in this hot weather. Summer is here, and it is time to beat the heat. With this idea, we have one amazing spot for you. It is the Wild Venture water park in Karachi. You need to check it out with your friends and family. It is located at a distance of 4 km from Baqai Medical College. You may spot it at Gadap Road, Super Highway, near the Old Toll Plaza. If you have already visited this Wild Venture water park in Karachi, then share your experience. So, here we are sharing the ticket price and all the other things you should know here. Scroll down and get the details.
Wild Venture Water Park Karachi Ticket Price 2022
So, here we are giving you the common info that is very important. So, get the details that are given below. Moreover, these Ticket charges are completely non-refundable. They are even non-transferable. No compensation will be given in case of closure of any facility due to technical fault or because of force majeure.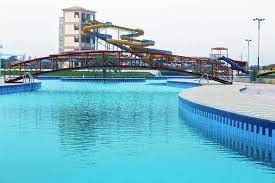 Wild Venture Water Park Ticket Price 2022:
| | |
| --- | --- |
| Normal Ticket Price | Rs 1000 |
| Per Person Ticket Price | Rs 700 |
For your information, the ticket prices for Wild Venture Park are given on the Facebook page of this park. This thing will help you manage your money while you decide to visit this enjoyable place.
Wild Venture Water Park And Resort Ticket Prices 2022:
Wild Venture Park introduces a new event for the enjoyment of people, which is called Jashan-e-Baharan 2022. If you are interested in attending this event, then you pay a ticket price and then you enter this function with your family and friends. This event starts on March 12, Saturday 2022, at 09:00.
| | |
| --- | --- |
| Jashan-e-Baharan 2022 Ticket Price | Rs:800 Per Person |
Ticket price details of Wild Venture Park:
This park charges Rs. 800 per person. If your child comes under the age bracket of 3 years, then he or she will be charged with no ticket fees. In addition, if you as a group are less than 50, there is no need to pass yourself through the booking procedure. What you need to do is to directly purchase and buy your tickets right from the ticket counter. Furthermore, the counter is going to give you RFID wrist bands as well. If your RFID band is not present on your wristband, then a fine of Rs 500 has to be paid by you.
Timings and Location:
t is located at a distance of 4 km from Baqai Medical College. You may spot it at Gadap Road, Super Highway Near Old Toll Plaza. The operating hours of this park are from 10:00 am to 5:00 pm.
Facilities in Wild Venture water park:
In this amazing water park, you get to see 14 slides. There are a total of 14 pools for kids and 21 pools for adults. It has a high-end restaurant facility in it. From there, you can have and enjoy quality food. This water park restaurant is known for offering traditional and fast food varieties at its end.
Along with that, this water park spot has private gazebos in it. It gives you secured RFID lockers. Keep in mind that there is one RFID wristband for entry purposes, lockers, and deposit purposes. Beyond, you can use these RFID wristbands for making cashless transactions and any kind of purchase.
Offers and Packages:
The minimum booking has to be for at least 50 people. You can avail of the school package if you follow and opt for the booking procedure. For the school booking package, you should either submit the form by hand or online.
Make sure to confirm the booking request 2 days before the date of your actual visit. On the confirmation of the booking, you need to make a 50% advance payment. Remember that just co-educational schools can become part of the school package. This Wild Venture water park allows a maximum of 60% boys' attendance and a minimum of 40% girls' attendance.
So, when you are planning to check out this Wild Venture water park in Karachi, Keep tuned in with us so that ticket information on other Pakistan-located water parks can be shared with you. So that's all there is to it for Wild Venture Water Park Karachi Ticket Price 2022. Hopefully, you got all the information that is needed.