Here you will get the Jazz Super Daily Call Offer Activation Method Charges, Subscription Charges, Validity of package and all the details about this package are given here, you can get most new and latest Packages, offers, Mobile Internet and other latest news about jazz Services from here. Mobilink is giving you most exciting and reliable packages and we have given you all th details of all these packages here. Mobilink is Pakistan's leading provider of voice and data services, bringing more people together through service excellence and product innovation. With more than 36 million subscribers, Mobilink maintains market leadership through cutting-edge, integrated technology, is a broadband carrier division that is providing next generation internet technology as well as the country's largest network with over 9'000 cell sites making every day a better day for its customers. Mobilink offers exclusive and personalized tariff plans that empower customer customers and cater to the communication needs of a diverse group of people, from individuals to business to corporate and multinationals.
Jazz Super Daily Call Offer Activation Method Charges
We are informing you that the Jazz Super daily call offer package is for you, it is filled with multiple offers and you can get all the information of all these offers here, it empowers you to connect to your friend, family, and co-workers without slowing down your pace.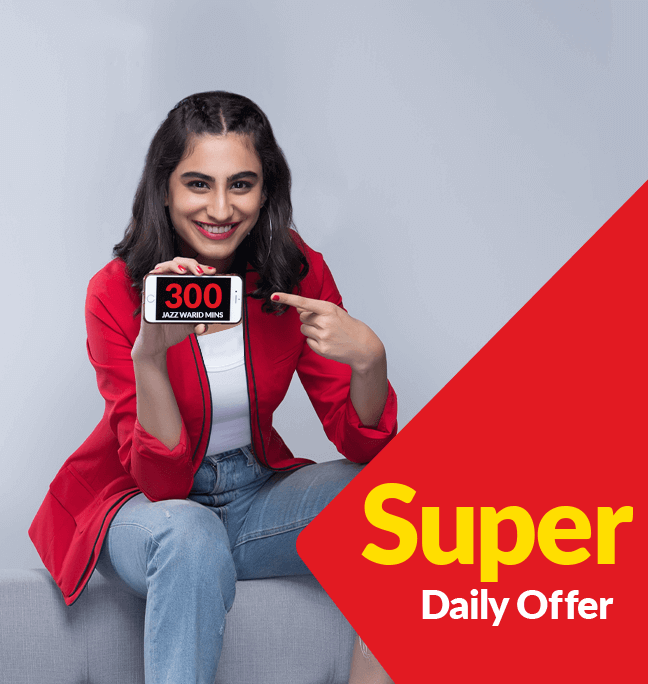 Jazz Super Daily Call Offer Details:
On-net: 300 On-net mins
Internet Mbs: 150 MB
Status String:*212*2#
Info String:*212*3#
Subscription:  *212#
Un-Subscription:  *212*4#
Subscription Fee: Rs. 17 (Incl. tax)
Validity: Daily (24 hours unlimited)
Terms and Conditions:
Limited time offer, it is subject to change anytime
Call set up fee is applicable
Overage of Re. 1+t/MB applies for all mobile internet bundles
Actual internet speed will depend on multiple factors like sim, device, web pages accessed, time of day, number of simultaneous users, distance from the 2G/3G/4G site, etc
If you are not subscribed to any bundle base rate will be charged i.e. Rs. 3.6+t/ MB. Charging pulse will be 512 KB
So these are all the details about Jazz Super Daily Call Offer Activation Method Charges. All rates will be charged in PKR (Pakistani Rupees). Terms and conditions will be applying for this package and offer, while the call setup fee of Rs 0.15 plus tax will be charged on the first pulse for each call. We have given you all other details about this package and more latest and new packages and offers of Mobilink Jazz are given here. Rates of this offer are different for different calls, means it will be charged 2.2 per minute on all the Onnet calls, 2.2 per minute on Offnet calls and 1.7 per Sms on all Local Sms's. For more information get on the official site of the Mobilink Jazz.