Here I have discussed all the ways for how to start Forex Trading in Pakistan in Urdu. Your training will start from creating an account on Forex and how you can be able to earn money from Forex. The complete procedure that you can follow to work on Forex to earn money will provide you a guideline to work professionally and affectionately.  This is the information that will help you in trading of foreign exchange and currency. For this purpose, you must have a broker of the currency on whom you can trust and you are sure that he is not fraudulent. Most of the brokers of today are just like that who invest the money of others and show that they faced a loss and keep all the profit themselves. This is why this is a business on speculation and heavy risk.
What is Forex in Urdu
Forex trading or Foreign exchange is totally based on a speculative phenomenon and is quite much risky type of business. This business is totally based on assumptions and speculations. This provides a platform where you can trade in foreign currency. It is the trade and exchange of currency. This is the place where you can buy or sell a currency by keeping your profit ratio as per the world FX authority.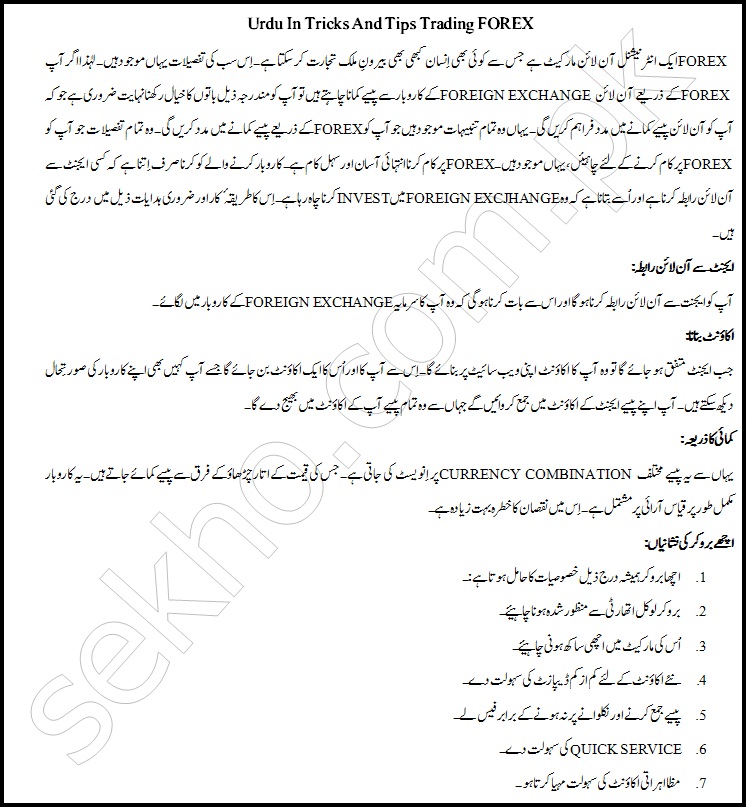 How To Start Forex Trading In Pakistan In Urdu
Following are all the details that you need to open an account with Forex and start business. This is the place where you can find how to create a Forex account with a currency broker and start earning money form that account. You have to account that the person or broker you are working with is not a fraud.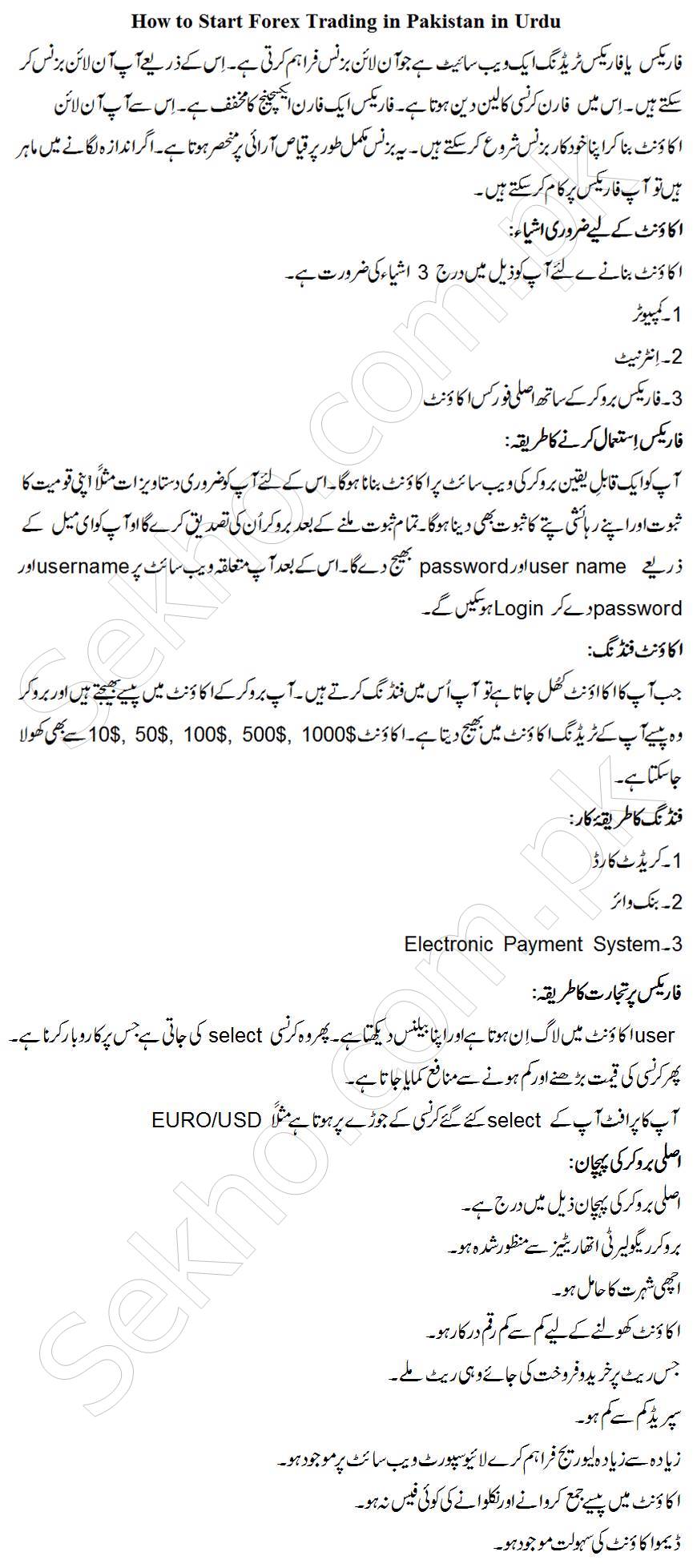 Requirements for the Forex Account:
You need three things to create an account:
Computer
Internet
Real Forex trading account with a Forex broker
How To Trade On Forex:
You have to create an account with a trust-able foreign broker on his website. For this you have to fill an account opening application form on the website of the foreign broker. With all this you will have to give the evidences of nationality as CNIC and the address as the utility bills or any other that can define your nationality. Send these documents by e-mail to the broker then broker will send you the user name and the password of your login account.
Accounts Funding:
After the account is opened you have to submit funds to the account. You submit the funds to the account of the broker and he sends those funds to your trading account. You can open the account with even 1$.
Usually account is opened by 10$, 50$, 100$, 500$ and 1000$.
Mode of Account Funding:
There are three modes of funding the account on forex:
Credit card
Bank wire
E-Payment system.
Method of Trading on Forex:
The user login to his account and check the fund balance that he has in is account. Then select a pair of currency that the user wants to trade in. most of the pairing is based on the EURO/USD. This trade is based on the phenomenon that how much appreciation occurred in the currency that you have chosen in the pair and your profit is also based on this.
How to Identify the Real Brokers:
You can find thousand of brokers of all over the world on internet but you have to identify the real brokers ignoring the fake and fraudulent brokers. Following are the qualities are for the real brokers:
Broker must be recognized to the local regularity authorities and must be linked to the local authorities as the NFA in America and FSA in England.
Broker should have goodwill in market
Minimum deposit for opening of account
No slippage in the trade and the fair pricing and profit distribution.
Minimum spread
Maximum leverage
Live help available on website
No fee for withdraw or deposit in the account
Trading software is easy to use
Instant execution
Facility of demo account is available.
Special instructions:
Remember all Forex trading is a risky business. Any kind of loss due to the information will not be accepted by www.sekho.com.pk in any circumstances. You may also share your comments relating to how to start Forex Trading in Pakistan in Urdu tutorial in the following comments box below of this passage.