UCP University of Central Punjab Spring Admission 2015 is open in different department all admission detail and admission procedure are available on this page so keep on touch with this page and read all given information after this you can able to understand Admission criteria , Courses, fee structure, Scholarship criteria, University central Punjab open admission in following department.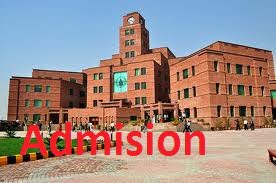 UCP Business School.
Faculty of Commerce.
UCP School of Accountancy.
Faculty of information Technology.
Faculty of Engineering.
UCP Business School:
BBA Honors with Single Major
Management
Marketing
Finance
BBA Honors with double Major in:
Management and marketing
Management and Finance
Marketing Finance
Eligibility Criteria:
FA/ FSc/Icom/A-level or equivalent Minimum 2nd Division
MBA  1 ½ Year MbA 2 ½ years and MBA 3 ½ years Admission also open in this department.
Faculy of Commerce:
B.com Honors 4 years program
M.Com 2 years program
MS commerce leading to Phd  2 years
M.Phil. Commerce leading to phd 2 years
MBA for professional Accountants
UCP School of Accountancy:
Bs Honors
Applied Accounting 4 years
9 paper exemption in ACCA Highest number of exemption provided world over by ACCA.
Faculty of information Technology:
BS computer Science
MS Computer Science
Ph.D Computer Science
in this program Research Area
Software Engineering
Formal Method
Intelligent system
Computer and Communication Networks
computer Vision
Database system
High Performance Computing
Faculty of Engineering:
M.SC Electrical Engineering
Eligibility criteria:
B.Sc (EE) or equivalent accredited by PEC minimum CGPA 2/4
The GAT General conducted by NTS minimum 50% cumulative score
Entry Test/Interview
Limited Seats For Foreign Student
25% waiver to all PGC graduates
Graduate Teaching Assistantship (Limited Number available on merit)
University central Punjab stand in w4 category in university ranking. University have major feature like HEC approved ph.D supervisors , Well equipped research centers, Dynamic research groups, well qualified Faculty, Prompt job placement of graduates, MBA/BBA Accredited by NBEAC.
Admissions spring 2015:
Last Date to Apply:                          24th January, 2015
Classes Start:                                    9th March 2015
Contact number:                              042-35880007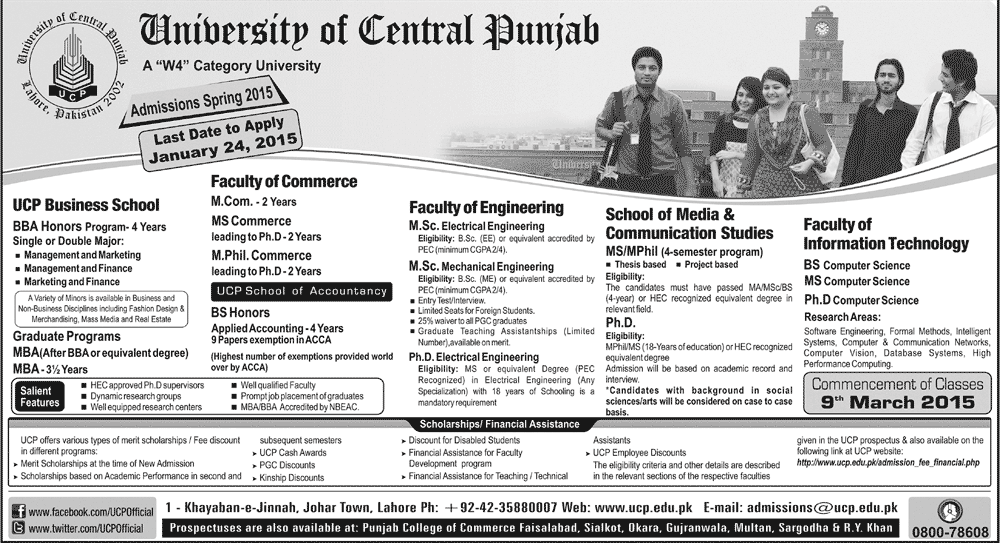 Scholarships/ Financial Assistance:
UCP offer 100% tuition fee waiver in the form of merit scholarship on the basis of academic excellence in F.A/ F.Sc and B.A/B.Sc examinations held under annual system of examination. Eligibility for merit scholarships is determind on the basis of 75 % aggregate marks and 3 As in A-level secured in one attempt in one attempt for BBA/BS programs. UCP alos ofer 50% tuition fee waiver on the basis of 70% marks in F.A/ F.Sc and B.A/ B.Sc examinations held under the annual system of examination Bs or better in A level secured in one attempt. Almni of all PGC institutes are given 50% fee waiver on tuition fee. Fee waiver for PGC Alumni is continued for subsequent semesters if a student maintains a CGPA of 3.00 or higher. Teaching and research assistantship available for students.
if you want Pakistani university admission details or news, updates and lot of more like exam dates, answer key, result, jobs, or all type of educational and technology news then keep in touch with this website you can get all of this and lot of more.