Queen Mary College Lahore 1st Year or Intermediate Admissions 2017 are open. Now Students who passed out their Matric can choose FA,FSc,ICom,ICS,General Science as per their Interest. Queen Mary College Lahore starts to intake Admissions against these programs from 26th July Till 5th August 2017. Queen Mary College also having right to extent Admission Date without giving any prior Notice. Therefore Students should keep in Touch with College Admission Cell from 26th July 2017 till the date when the merit list is announced. All Admissions regarding information available in official advertisement of Queen Mary College Admissions 2017 is also available here at this page for the sake of 10th Class Students. Admissions Applications are required against Intermediate Part 1 both morning and evening shift FA,FSc(Pre- Medical , Pre- Engineering) General Science.I.Com and ICS by Queen Mary College. Admission will be allotted upon Merit and against strict rules & regulations of Government Of Punjab's transparent admission Policy.
Queen Mary College Lahore Admissions 2017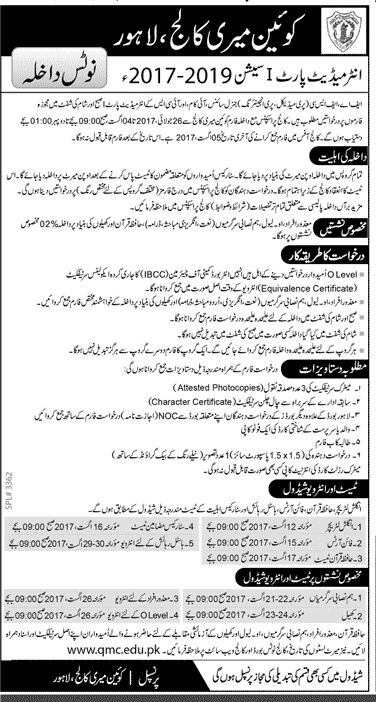 Admission Is Open From: 26th July, 2017
Last Date for Submission of Admission Form: 5th August, 2017
Disabled and Sports Admission Quota applicable upon 2% seats of sum of seats. Applicants should submit their Admissions forms with accordance of Color and Group so far. O level Students are eligible for submitting their Applications. They Should have to submit Equivalent form specifically issued by Inter Board Committee of Chairmen(IBCC) during Interview. Disabled and Sports Quota Persons should submit their forms with specific colors. Applicants should submit their forms for morning and evening shift separately. If you get admission in evening Shift than that admission will be non transferable towards Morning Shift. Sports Seats quota is only applicable in Arts and ICom groups only.
Note: Merit Lists will be Linked here at this as soon as officially Published by Queen Mary College Lahore
Admission Deadlines,Interview Schedule for Different Groups,Test Schedule for Different Groups,Documents should be attached with Application Form and many other queries can be solved through reading out official Advertisement of Queen Mary College Lahore admissions 2017 notice.