Zong has updated its Zong Caller Tunes Codes List 2019 for its customers. We are also sharing the latest Zong Dial Tune Code list in below side, so read all given information and through this information, you can easily understand its activation method and charges detail. Zong call tunes help you to customize your dial tune so that whenever a person call you he/ she will listen to your favorite song instead of old Beap or dial tune. how to get Zong dial tunes codes list according to the different category and how to activate dial tune with all this you can also get daily, monthly and weekly charges that will charge against zong caller tunes. You can also adopt the caller tune of any person by dialing a specific code which is also given in the below side too.
Zong Caller Tunes Codes List 2019
Zong is one of the five telecom companies of Pakistan which are also offering different services to their customers including Dial tunes or caller tunes. Now a person can set his favorite song or dialogue as his call tune by following the below given Zong Caller Tunes Codes List 2019 in Pakistan.

Zong  Dial Tune 2019:
Zong is offering Zong Dial Tune 2019 to its customers by dialing a single code to help them to let their caller listen to their favorite song. Zong Call Tune List 2019 is given in the below side so that you can choose the best dial tune. if you are decided you want active dial tone on your Zong number then activation method is very easy just dial 230 or send Reg to 230 means you can subscribe this service through this dial code and you must have knowledge against this subscription Zong company will charge RS 1+tax/IVR min.
Dial Tune code
Dial Tune Name
Buy
times
0070056562
Dard Dilo Ke
16163
0070055522
Baby Doll
5945
0070044650
Hum Tere Bin T..
5394
0140001620
Kon Baat Kar R..
3923
0070044664
Tum Hi Ho
3525
0070055546
Suno Na Sange ..
3472
0070054557
Kamli
3449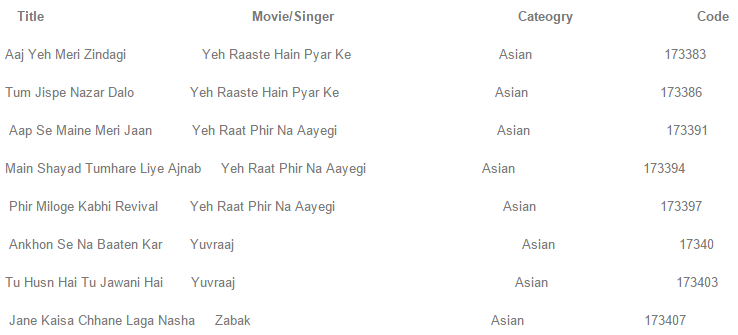 Zong Caller Tune Price 2019:
Zong is offering Zong call tune in reasonable price. You can activate to daily and monthly subscription package which is as follow.
| Package | Subscription Charges | Registration | Package Switching |
| --- | --- | --- | --- |
| Daily (1 Day) | Rs 1.50 | Sub or REG to 230 | Send (MODBRAND 1) to 230 |
| Monthly (30 Days) | Rs 25 | Can be activated via Zong E-care portal & 310 Helpline | Send (MODBRAND 19) to 230 |
Click Here To Get More Zong Dial Tunes 2019
This is the complete detail of Zong Caller Tunes Codes List 2019. Activation charges for these Dial tune are also mentioned in the above side. So must check the charges before activation of Zong Caller tune service.