Now you can get the Zong Balance Save Code 2023 while using the internet from this page. People use Zong net world not only for cheap call rates but also for using the internet. Zong gives priority to their valued customers, and now this offer is very important to save your balance. But the important thing that you know is the method of saving Zong balance while using the balance save code.  You may experience this because you do not possess an internet package when you use the data service. A number of Zong users are worried about their balance deduction when their data is on so the company introduce Zong Balance Save Code 2023.
Zong Balance Save Code 2023
So from here, you can get the detail of Zong Balance Save Code 2023 While Using the Internet. There are some reasons for the launch of this service by Zong. The first reason is, your balance was deducted without any message or notice.  Through this service, you can save your money when you do not get any international package. When you forget to turn off your data connection while you have a zero balance, the company deducts your balance.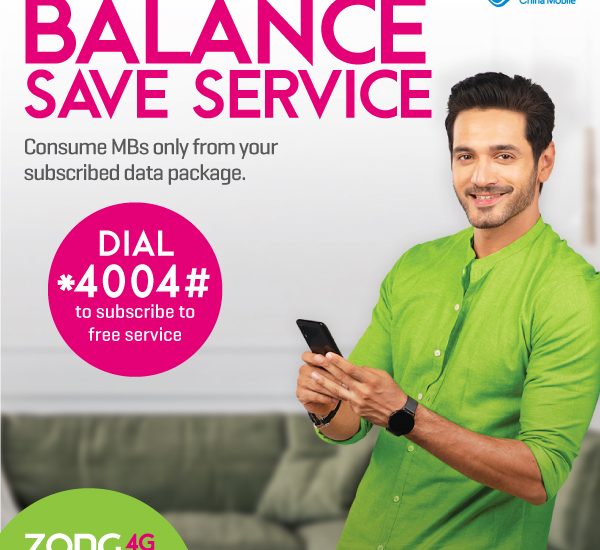 How To Save Zong Balance While Using Internet:
You can use this service without any charges; just dial the code *4004# and follow the instructions. As a user of Zong 4G, you can use this code when you do not have any intern package. So here we tell the method in full detail because below, all steps are mentioned in an easy way.
You can do this by going to the dial pad on your phone.
Enter *4004#
Prepaid users should choose 1 and postpaid users should choose 2.
To subscribe, choose 1.
Your activation will be confirmed by a message.
This service is free of charge.
If you wish to cancel this plan, simply repeat step 1 and choose 2 at the end.
Balance Save Service Zong Code:
| | |
| --- | --- |
| Zong Balance Save Code 2023 | *4004# |
How to Save Balance in Zong App:
There is another way that will help you save your balance. You can also use the Zong app to subscribe to this amazing service, and after subscribing to this service, your amount will be saved. This service is valid for both Zong prepaid and postpaid users, and the process of getting this service is very simple. Because here we tell you the full details of Zong Balance Save Code 2023 While Using the Internet.
Start the My Zong App.
Press the search icon.
Choose the balance to save option by typing "balance save service."
You will be subscribed to this offer after clicking Subscribe Now.
You can read the instructions for this offer, which is free of charge.
If you wish to unsubscribe, simply navigate to the offer page and select Unsubscribe.
You can also visit Zong SMS Packages
Zong Balance Save Unsubscribe Code:
There is no unsubscribe code for this service but you can only get Zong Balance Save Code 2023 While Using the Internet.
Zong Balance Save Karne Ka Tarika:
In addition to preserving your mobile balance, this service is free of charge. For more information, or to subscribe, just dial *4004#. This Zong balance save code service will save your balance when you don't have any free MBs or internet packages. You may have accidentally turned on the data connection while you did not know that the free resources had run out, or you may have unintentionally turned it on without turning the data connection off.
Zong Balance Save Service Charges:
You can get Zong Balance Save Code 2023 while using the Internet without paying any charges. This service is totally free from the Zong 4G network to their valuable customers.
So, I tried to give the full details of this service and I hope you will be able to get Zong Balance Save Code 2023 While Using the Internet. Stay connected with us if you want to know about your favorite network offers and packages.