This is how you can How to Unsubscribe Warid, Ufone, Telenor, Zong, Mobilink Caller Tunes. All details are available on this page so read all this and get all information that will helpful for you. Some time we subscribe caller tunes and after long time we understand against this service telecom company charge high rates so then we want to unsubscribe this offer. so that is the reason we share all Pakistani telecom companies caller tune unsubscribe method. In Pakistan lot of companies give telecom service like Warid, Ufone, Telenor, zong, and Mobilink this all companies try to give cheap call rate or SMS packages due to competition. This is the place where you can get all companies package details activation method etc. this is the fastest technology portal that provide best news, updates regarding technology so keep in touch if you want get all this and lot of more.
How to Unsubscribe Warid, Ufone, Telenor, Zong, Mobilink Caller Tunes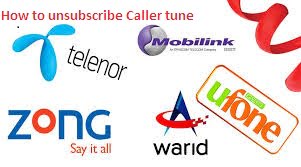 Warid Caller tune Unsubscribe Method:
If you want to know How to Unsubscribe Warid Caller Tunes then you check the details. unsubscribe warid caller tune then type RBT and give space and type OFF and send this SMS to 7171, after this you can receive " Thank you for using Warid Caller Tunes. Your service has been deactivated" this SMS and Now you caller tune deactivate and you RBT service also Off.
Zong Caller tune Unsubscribe Method:
ZONG dial tunes give you a chance to Say it all even before you pick up your callers phones. When your friends call you they no longer have to hear that boring old 'dial-tone' Instead, they can groove to the hottest new tracks on the music scene!
How to Unsubscribe Zong Caller tunes:
Send "UNR" to 230 against this SMS you can pay Rs.1+tax/sms after this you caller tune deactivated.
Telenor Caller tune Unsubscribe Method:
Talkshawk Smart Tunes lets your friends and family listen to your favorite caller tunes every time they call you. You can either select one common Smart Tune for all callers or different tunes for different callers.
How to Unsubscribe Telenor Caller Tunes:
SMS 'UnSub' to 230 or SMS 'UNSub rbt' to 230
You can also visit your nearest Telenor Sales and Service Center or retailer
 Ufone Caller tune Unsubscribe Method:
Tunes brings you the one stop where you can find your favorite songs. Thanks to UTunes you will never be the one asking others for the latest hit; infact you will have everyone shaking to the latest grooves from around the world.
How to unSubscribe Ufone Caller Tunes:
You can temporarily deactivate(Stop) the service when you do not want other people to hear your UTunes service by sending SMS "OFF" to 666, but you will not be unsubscribed, you can turn it back on by simply sending an SMS with the command "ON" to 666.
How to Unsubscribe Mobilink caller Tunes:
Mobilink Mobitunes can unsubscribe by Sending 'unsub' to 230 or dial 230 after this you can unsubscribe your caller Tune.