Check complete Utility Stores Ramzan Package 2020 Rate List With Price through our site. Prime Minister of Pakistan has given the special Ramadan Relief Package 2020 to the general public this Year Ramzan package more better because this Year Razan bazars.  Federal Government of Pakistan has decreased the rates of basic use things in Ramadan like oil, sugar, floor, rice and different daals and dates e.t.c. It is the very best package for the people of Pakistan. Normally the rates of everything go higher every year but the offer given by the Federal Government of Pakistan is going to be relaxing and beneficial for the people of Pakistan.
Utility Stores Ramzan Package 2020
Government of Pakistan has introduced Utility Stores Ramzan Package 2020 rate list are display for the general public. In this Ramzan package, you will get additional 10% discount on all the items. So check the rate list with price from this website and make a decision to purchase from Utility Stores during this Ramzan.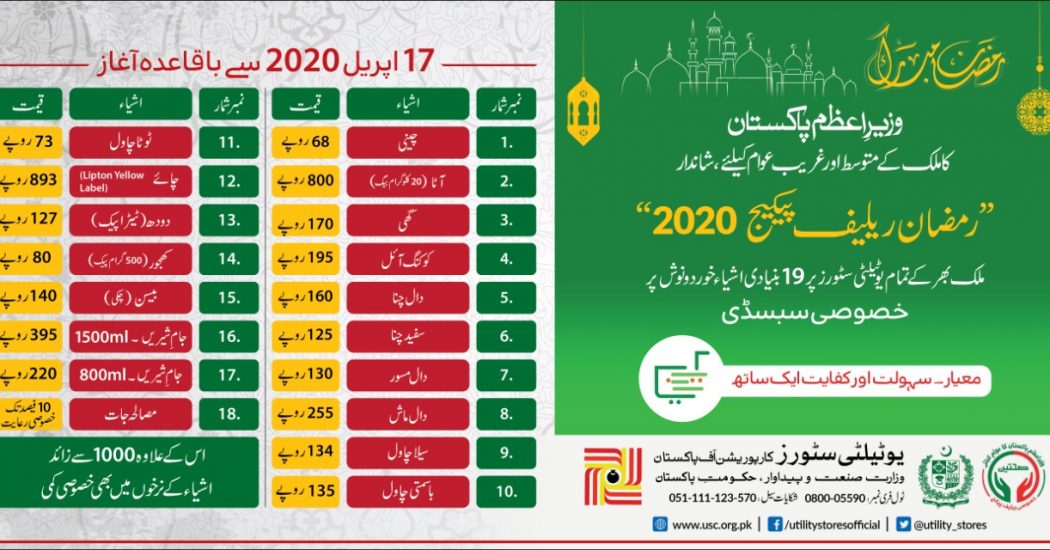 Utility stores Ramadan timing 2020:
Due to corona Virus this year Ramadan timing are different as compare to last years. according to Govt notification all stores are close before 5:00Pm. All utility stores timing in Ramzan is 9:00 to 5:00 Pm
Utility Store Helpline Number:
if you face any problem then you freely contact with utility store toll free Number and contact with utility store complaint registration cell:
Toll free Number: 0800-05590
Complaint Registration cell: 051-111-123-570
Ramzan starts and Rush on stores are increase. Utility Stores Ramadanan Package 2020 has announced by the Federal Government. According to the new package 10% discount will be given to customers on all USC products. It is really a great and relieving offer of Ramadan given by the Federal Government of Pakistan. This package is giving the same standard of things but there will be a much difference in rates of these things like Oil's rate in the market is available here, on utility store you will get the same oil after 10% discount. it exciting and amazing offer for saving the money in the month of Ramadan and help the poor people. Some of the Utility Stores Ramzan Rate List With Price of Market and given by the Federal Government of Pakistan are given below.