Quaid-e-Azam was the first head and prestigious leader of Pakistan. He died on 11 September 1948 in Karachi.  The tomb of Muhammad Ali Jinnah is known as Mazar-e-Quaid. It is the national mausoleum and the resting place of our great leader. Undoubtedly the Mazar-e-Quaid is recognized by iconic symbol of Karachi all over the globe. It spreads on the 3100 squares meters areas in the 1960's. It is one of the historical places of Pakistan, must have to visit. It is very beautifully built with copper grills, and white marbles with curved Moorish arches elevated at 54-meter square meters. Its white milky look splits elegant and charming look to the viewers. Liaqat Ali Khan, the first Prime Minister of Pakistan and the sister of Muhammad Ali Jinnah's well known as Madr-e-Millat Fatimah Ali Jinnah is also buried in Mazar-e-Quaid.
Mazar E Quaid Information, Visiting Hours, Timing, Map, Contact Number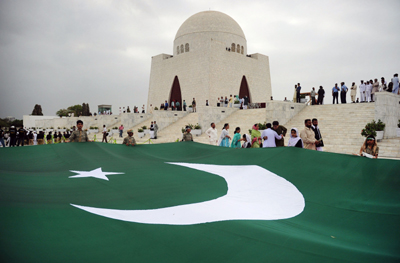 Copies of a biography of Jinnah and Pakistan Resolution and some old coins are also preserved in the Mazar-e-Quaid. The design and architecture of Mazar-e-Quaid are prepared by Mr. Yahya Merchant. There is also a park around mausoleum constructed with large beam lights which spread glowing view at night so far. The tomb of our Nation's Father was opened for general public on 15 Jan 1970. On special occasions such as (23 March, 14 August, 11 September, and 25 December) military and official ceremonies are conducted in Mazar-e-Quaid. Here we have detail and comprehensive information regarding timing, visiting hours, map and the contact number of Mazar-e-Quaid.
Mazar E Quaid Visiting Hours, Timing:
The general timing for visiting Mazar-e-Quaid is prescribed by the management of Mazar-e-Quaid. The visiting hours for the tomb of our prestigious leader are from 8:00 am to 7:00 pm similar to all days of the week. Tourism from all over the world visits this beautifully constructed tomb of Father of the Nation. There is no ticket, pass or any toe of entrance fee for Mazar-e-Quaid.
Mazar E Quaid Map:
Mazar-e-Quaid is situated at the heart of the city of the Metropolitan City of Karachi, near Jamshed Quarters, Karachi Sindh. You can also visit the official site of Mazar-e-Quaid for further details. Google map is also one of the best sources to find the additional and perfect map of this beautiful historical place.
Mazar E Quaid Contact Number:
If you want to contact the management of Mazar-e-Quaid, you can easily find the contact detail regarding this. You can contact the management through various contact ways such as through e-mail,
Phone No: 021-99230172, 021-99230171 and 021-99230174
E-mail: [email protected] / [email protected]
Website: www.qmmb.gov.pk
Hence these are complete details about Mazar E Quaid information, visiting hours, timing, map, contact number and address. It is because the 25th December is coming and you may plan to visit this place. So you must visit according to the time and duration so that you can stay safe from wastage of your time or any other hurdle of rush etc. Add your reviews relating to this post in the following comment box.