Through this page you can get 23 March Pakistan Resolution Day SMS, Poetry, Quotes 2019 so get this all interesting thing that is collected from different online sources. on 23rd of March 1940, A.K Fazlul Huq presented this resolution under the supervision of Quaid-e-Azam Muhammad Ali Jinnah through this resolution the Muslim Nation are submitted their demand that is related to separate other Muslims country after British Raj. One large public gathering was conducted on Lahore Minar-e-Pakistan and that day this resolution was passed in front of Public. Resolution day is also known as Lahore resolution and resolution of Pakistan. This resolution is officially considered as Muslim League first constitution. On every 23rd March, there is a Public holiday in Pakistan. People celebrate this day by sending Resolution Day SMS and Poetry to each other. Some people put Whatsapp and Facebook status too.
23 March Pakistan Resolution Day SMS, Poetry, Quotes 2019
Every year on 23rd of March Pakistan Government, Arms forces and Public is celebrated this day with the different method. On this day national holiday is announced for Pakistani People because through this day Pakistan history was changed and after many years we ha the better idea about this resolution Advantages. Muslims have given many sacrifices to get a separate state. Day of 23 march was the fruit of all those sacrifices that Muslims had made to get this separate country.
23 March Pakistan Resolution Day SMS 2019:
In the following points, we are sharing the 23rd March Pakistan Resolution Day SMS 2019. You can read write and wish any message by writing in your mobile phone text option. You can also copy these SMS and can send to your friends and family members.
Aysi Zameen Or Asman
Inke Siwa Jana Kahan…?
Barhti Rahe Ye Roshni
Chalta Rahe Ye Karwan
Dil Dil Pakistan
Jaan Jaan Pakistan….
Happy Pakistan Day 2019
___________________________________
Khuda Kray Ke Meri Arz E Pak Pe Utray
Wo Fasl E Gul, Jisay Andaisha e Zawal Na Ho.
Ameen
Happy Pakistan Day 23rd March
_______________________________________
1940 MAIN BE 23 MARCH AYA THA AUR AAJ B 23 MARCH AYA HE
FARQ SIRF ITNA HE US WAQT 1 QAUM KO COUNTRY KI ZARORAT THI OR
AAJ 1 COUNTRY KO 1QAUM KI ZAROORAT HE HAPPY
23RD MARCH PAKISTAN DAY''
__________________________________________
Ghulami Mai Na Kaam Aati Hain Shamsherain Na Tadberain
Jo Ho Zouq-e-Yaqen Paida Tu Kat Jati Hain Zanjerain(Happy Pakistan Day, Long Live Pakistan)
______________________________________________
There Are Some Unforgetable Days
In The History Of Any Nation…
23rd March 1940
Is Very Important Day
On Which
Quaid Gave A Platform
To The Movement Of Pakistan
And This Is A
Milestone In Pakistan's History…
So, HAPPY PAKISTAN DAY
______________________________________________
23 March Pakistan Resolution Day Poetry 2019:
People who are looking for 23 March Pakistan Resolution Day Poetry 2019 can check from this website. In the following side we are sharing the 23rd March poetry 2019 with you. These are golden words written by the famous poets in regards to the resolution day of Pakistan.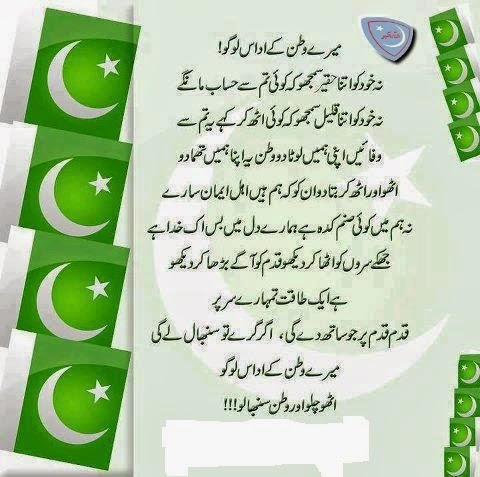 23 March Pakistan Resolution Day Quotes 2019:
On this website, you will also get the 23 March Pakistan Resolution Day Quotes 2019 which are available in the form of pictures. You can simply download these pictures and can send to your families or friends or can set as your Wallpaper too.
after 23 March Pakistan Resolution Day SMS, Poetry, Quotes 2019 if you want 23rd march day Wallpaper and essay then visit this website main home page. you can also share your SMS, reviews and other data relating to this day in the following comments section below to this passage.