IMO users can check the Free IMO Package 2023 Code Zong, Ufone, Jazz, Telenor, network. IMO is an instant messaging app that allows its users to send and receive messages, make audio and video calls, and sharing of media. This App can help you to make video calls in any country of this world without any charges if you have an internet package or are connected to WIFI. In Pakistan, All telecommunication companies including, Jazz, Telenor, Zong, and Ufone have introduced codes for free IMO. With the rise of competition among these Telecom companies, all companies strive to provide the best services in Pakistan.
They attract their customers using different techniques including free packages for months. Today, we will discuss the Free IMO code in Pakistan for all networks.
Free IMO Package 2023
With the increase of IMO use, Telecommunication companies in Pakistan have introduced a Free IMO Package for their customers. No matter you are a Zong user, Jazz, Telenor, or Ufone user, you can simply use free IMO on your mobile by subscribing to a free IMO package for all networks. One more important thing here is that every network is not offering the IMO package. Only Zong and Telenor are offering IMO Packages. But the other networks offer different social bundles in which you can use Facebook, WhatsApp, and IMO.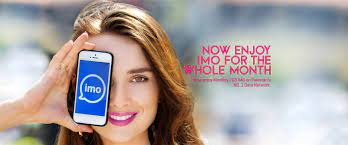 Zong Free IMO Package 2023:
Zong is the first telecommunication company in Pakistan to have introduced the IMO offer for its customers. Now you can enjoy up to 2 GB for IMO audio calling, video calling, and chats for just Rs. 38. You can also use this package to download videos from IMO too. The Zong Free IMO Package Code and other details are as follows.
2 GB Internet for IMO
Validity: 30 Days
Package Price: Rs. 38 plus Tax
Activation Code: *466#
Zong Whatsapp Imo Facebook Monthly Package Code
If you are a Zong customer and a Facebook user then you must enjoy this package. There are many packages available, and among them, the IMO monthly package is amazing.
Activation Code: *250#
Zong Whatsapp Imo Monthly Package Code
Besides this Zong Imo monthly and weekly package is also available to facilitate their customers and the activation code is given there so that you avail of this without any difficulty. Now you can get the Zong IMO package unsubscribe code from here.
Activation Code: *466#
Ufone Free IMO Package 2023:
Ufone is currently not offering any specific package for IMO. It is expected that Ufone will introduce Ufone Free IMO Package for its customers in Pakistan in the near future. After the announcement of this package, you will be able to check the activation code of this package from this website. Check, Ufone Internet Packages.
Jazz Facebook Whatsapp Imo Monthly Package Code
Jazz is also not offering Jazz Free IMO Package to its customers yet. Those who want to use IMO on their Mobile can subscribe to other Jazz Internet Packages on a daily, weekly, and monthly basis. If Jazz will introduce the IMO Package then it will be available here too. You can get 12000 SMS along with 5 GB of internet, so just dial and activate.
Activation Code:*661#
For More Detail Check the below link
Click Here For Activation
Telenor Free Imo Package Code 2023:
Like other social offers, Telenor is also offering a Monthly IMO Package. Check, Telenor Internet Packages. The details about the offer are given below.
2000 MBs
Validity: 30 days
Charges: Rs. 45 incl. tax
Activation Code: *466#
Telenor Facebook & Whatsapp Imo Monthly Package
The company has always provided its valued customers with various kinds of services, and now this company has come up with an incredible offer which is called the Telenor Facebook & WhatsApp IMO monthly package, and here we shall explain how to avail of this amazing service.
Subscription Code: *911#
Check Reaming Stats: *111#
Check MBs' Dial: *999#
 All companies have other exciting internet packages for their customers. There are some terms and conditions for each of the packages. The main thing about all the packages is that you can use the date only for IMO. If you use this data for other applications or purposes, it will not run. So if you want to get more details about the Free IMO Package 2023 Code Zong, Ufone, Jazz, or Telenor, then they are given here. Check all the other details about these packages.