This is the procedure How to write CV (CV Banane Ka Tarika In English, Urdu) all the information is available in English and Urdu for you. A large number of people are attached with the job sector that are working under a company and working for the other companies. These are the people that have to generate the CV for the purpose of getting a job. This is the reason that we are going to tell you that how you can generate a job winning CV. Curriculum vitae is a piece of paper that carries all the details of  your profile and skills. This is the reason that we are going to introduce an effective CV that will help you getting a good job. Here we are going to introduce the steps and the sequence to create an effective CV. We have a procedure to make a good and effective CV that will give you a competitive edge to be a part of a better and bigger organization. This will help you to explain and elaborate your skills and expertise. This will gives a good first impression on the interviewer and gives you a chance to explain yourself bitterly.
CV Banane Ka Tarika In English, Urdu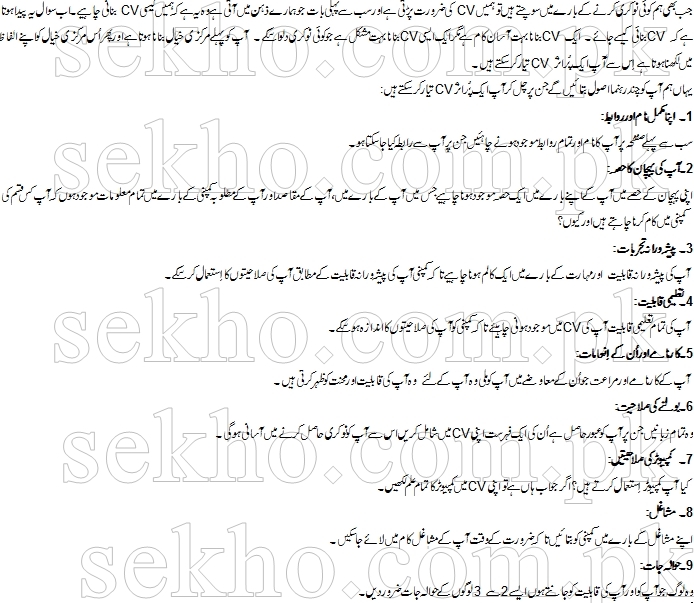 Following are the steps to create a good CV:
Your name and contact details:
The first section of the CV should contain all your contacts, your complete name and other details regarding this
Your goals:
2n d section should define your aims and goals.
Professional skills:
All your professional skills should be clear in this section.
Educational skills:
You have to define the most important section of the CV which is your educational level and your educational skills.
Achievements:
You have to define all the achievements that you have made in al the time of your life till you apply for this company.
Languages:
You have to mention all the languages that you have a proper command on.
Computer skills:
All the computer skills that you have should be mentioned in the CV.
Hobbies and references:
All the hobbies should be defined and mentioned in the end and last but not the least that you have to mention 2 to 3references of the persons that you know your talents and skills. This is the best CV Banane Ka Tarika In English, Urdu.