Through this page you can read Ramzan Ke Pehle Ashray Ki Dua In Arabic, Urdu and English so must read due, according to my knowledge first Ashra is known as Rahmat or blessing of Allah Ashra. Ashra means 10 days and you must have knowledge in Ramzan Month 3 Ashray is include and each ashra dua is separate and now in below side after this brief you can read Ramazan 1st  first Ashary ki Due. In Pakistan Ramzan Kareem is start on 24th of april 2022. Ramzan Kareem is blessing month for all Muslim because in this month Allah bless all Muslim those want to pray and Nijad. In month of Ramzan all Muslims can get blessing of Allah and Forgiveness so we are lucky agin Raman month is available for us and through 5 time prayers and different Nafli prayers you can get Allah blessing.
According to Muslim scholars Allah Send Quran Pak on Muhammad ? in ramzan Karren and all Muslim are giving thanks to Allah for Quran Pak that is the reason in Ramzan according to Allah ? and ? ? instruction all Muslim perform fasting and prayers. In Pakistan 2022 year ramzan Kareem start on 24th of april 2022. In below side Ramzan Ke Pehle Ashray Ki Dua is available for all readers,
Ramzan Ke 1st Ashray Ki Dua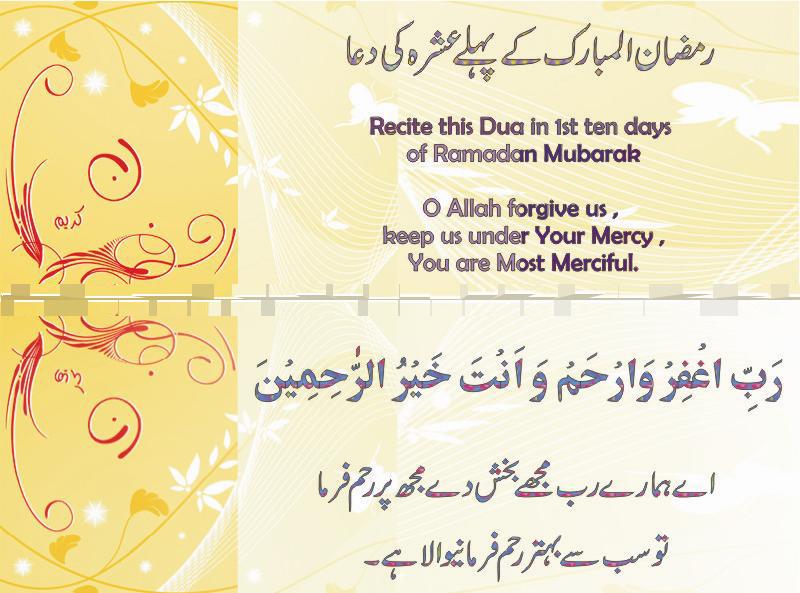 after Ramzan K 1st Pehle Ashray Ki Dua In Arabic, Urdu if you want Sehri or Aftari dua then visit this website main home page and through this web protal we are also share Lahore and Karachi Ramzan timing.
Ramzan ke Pehle Ashray ki Ibadat :
Ramdan k pehel ashary main zayda se zayda Time Allah ki ibadat main Guzarain. Nawafil ada karain or pray five times pray regularly. agar corona ki wajha se Masjid main na Ja sakain to Ghar Recite Holly Book Quaran Pak.