Today we are sharing zong caller tunes codes list 2016 so read all given information and through this information you can easily understand how to get Zong dial tunes codes list according you different category and how to active dial tune with all this you can also get daily, monthly and weekly charges that will charge against zong caller tunes activation. When your friends and any other will make call on your number then they no longer have to hear the boring old dial tune they can listen interesting tune that are selected from your choice.
Zong Caller Tunes Codes List 2016

through this picture you can get free dial tune offer.
Zong caller tunes Activation:
if you are decided you want active dial tone on your Zong number then activation method is very easy just dial 230 or send Reg to 230 means you can subscribe this service through this dial code and you must have knowledge against this subscription Zong company will charge RS 1+tax/IVR min.
Now for sekho.com.pk users we are giving you De-activation method just send "Unreg " to 230 @RS 1+tx/sms.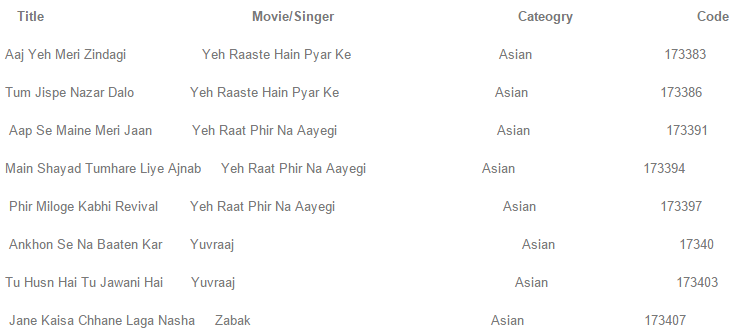 Dial Tune Packages:
| | | | |
| --- | --- | --- | --- |
| Package | Subscription Charges | Registration | Package Switching |
| Daily (1 Day) | Rs 1.50+t | REG D or REGD to 230 | SUB D or SUBD to 230 |
| Monthly (30 Days) | Rs 25+t | REG M or REGM to 230 | SUB M or SUBM to 230 |
| Quarterly (90 Days) | Rs 60+t | REG Q or REGQ to 230 | SUB Q or SUBQ to 230 |
Zong caller tunes codes list 2016:
Dial Tune code
Dial Tune Name
Artist
price(Rs )
Buy
times
0070056562
Dard Dilo Ke
The Xp..
5.00+tax
16163
0070055522
Baby Doll
Ragini..
5.00+tax
5945
0070044650
Hum Tere Bin T..
Aashiq..
5.00+tax
5394
0140001620
Kon Baat Kar R..
Mobiti..
5.00+tax
3923
0070044664
Tum Hi Ho
Aashiq..
5.00+tax
3525
0070055546
Suno Na Sange ..
Youngi..
5.00+tax
3472
0070054557
Kamli
Dhoom 3
5.00+tax
3449
Caller Tune Deactivation Method Details:

Remember one thing zong caller tunes codes list 2014 are updated day by day so visit this page when you want change your dial tune and get zong caller tunes codes free of cost.