Unity is great strength and when we talk in Urdu then it is called as Qaumi Ittehad. Here I am congregated my words for Qaumi Ittehad essay in Urdu speech which you can download in PDF format. Every country depends on unity and solidarity. No nation, league, or creed cannot progress and become honorable until the person of that nation or league becomes united. You cannot think about the progress without national solidarity. After the establishment of Pakistan, many problems occurred in Pakistan. After the establishment of Pakistan, the death of Quaid-e-Azam and murder of Liaquat Ali Khan made Pakistan political weak. Politicians and leaders of that time hadn't thick about that what kind of Pakistan they are going to deliver to the next generation. The whole nation become disrupt and people divided into tribes, cast and creeds,, That is the only reason that we face many hurdles and difficulties to become a nation. The progress of a country or nation, national solidarity is compulsory.
Qaumi Ittehad Essay In Urdu Speech Pdf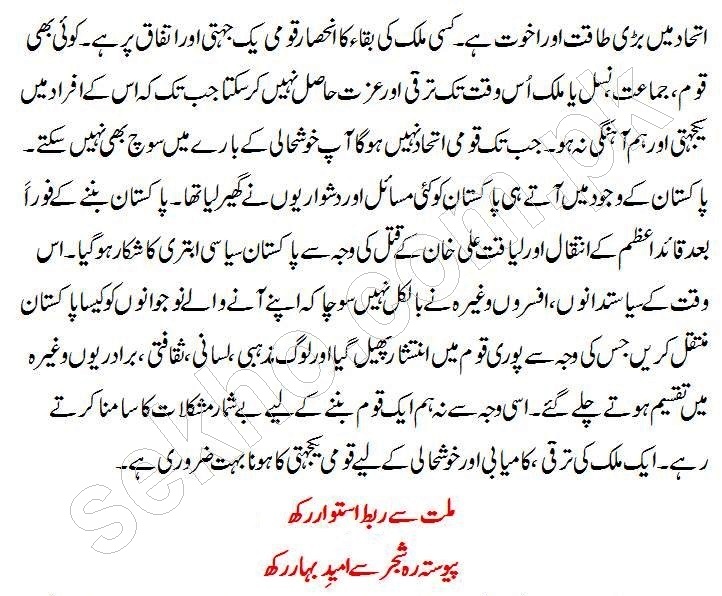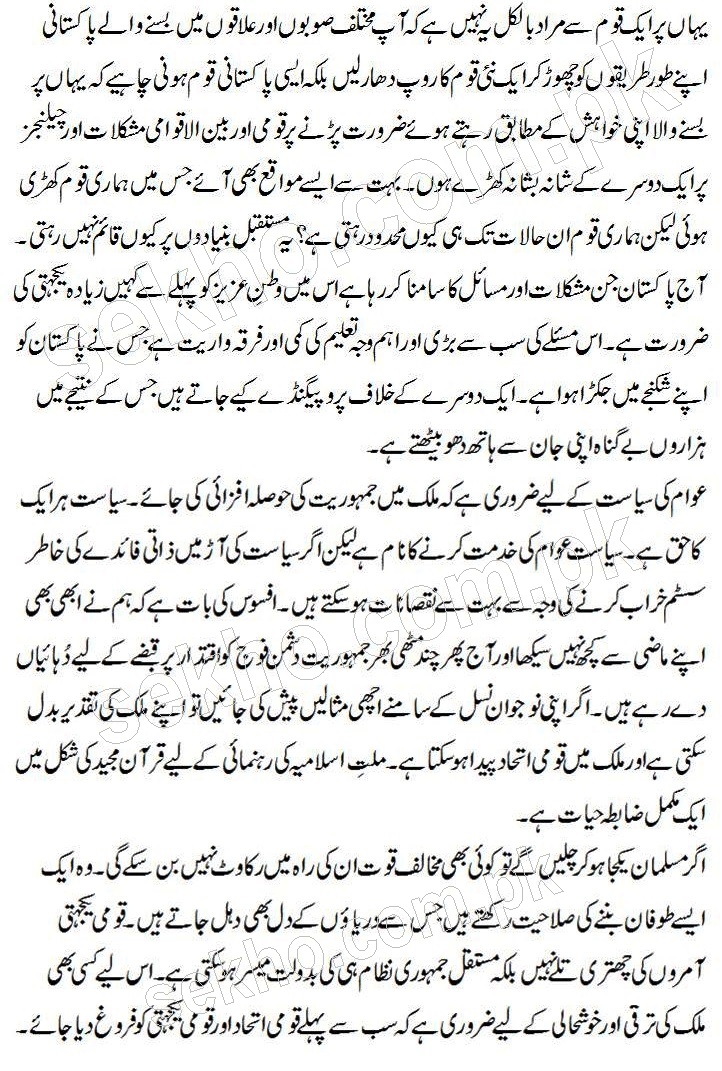 So this is Qaumi ittehad essay in Urdu speech. If you want to get this in English then read the passages I have written. Here one nation is not defining that people of different provinces and areas left their customs and traditions and become a new Pakistani nation. But it means that they have to live according to their own desires but in the hour of need they become united and stay with each other. There are many occasions where our nation becomes united but these are limited occasion. This nation doesn't stands united in permanent basis. Today our country is facing many difficulties and it needs our nation to become united. The biggest reason of this disaster is the lake of education and cast system which has gripped our beloved country. People make propagandas against each other and in the result of these propagandas thousands of people dies.
National politic needs, that democracy should be promoted. Politic is the right of each and every person. Politic is the name of serving nation and in the back of politics, self-benefits can harm the whole nation and system. It is very shameful that we haven't learned anything from our past and only few people are trying to eliminate democracy. If we show the good examples to our young generation than the destiny of our country can be change. For Islamic Nation Quran is the complete gaudiness.
If Muslim becomes united than no power will become hurdle in their way. They have abilities of that Tornado which can destroy the rivers. National solidarity can be achieved not under the supervision of politician but with democracy. Therefore it is mandatory for every nation to become united if they want to get progress. This was Qaumi Yakjehti or you can say as qaumi ittehad essay in Urdu speech.