We are sharing the details about the Raiwind Tablighi Ijtema 2023 date scheduled for Bayaan and Dua during the 1st phase and the second phase. As this year the Raiwind Tablighi Ijtima is going to be completed in two-phase as phase 1 will start on 2nd November and end on 5th November and the second phase starts from 9th November and ends on 12th November. This year the 2023 Tableeghi Ijtima in will be carried out in 8 cities that are Lahore division, Gujranwala Division, Deer, Bajor, Chitral, Faisalabad Division, Sargodha Division, Peshawar Division, Swat, Mangora, Kalam, Sindh Division, Gilgit, Baltistan, Kohistan. Whereas the 2nd Phase is for the DI Khan, Meeran Shah, North Waziristan, Rawalpindi Division, Muzaffarabad, Multan, Layyah, Dg Khan, Rajan Pur, Bannu, Bahawalpur, Karachi, Turbat, Kohat, Mardan, Quetta, Malakand so that final Date for Bayaan and Dua are as follow.
Raiwind Tablighi Ijtima 2023 Date Bayaan and Dua
1st part : 2nd nov 2023 to 5th November 2023
2nd part : 9th nov 2023 to 12th November 2023
May Allah bring hidaya and peace from this ijtema…
Amen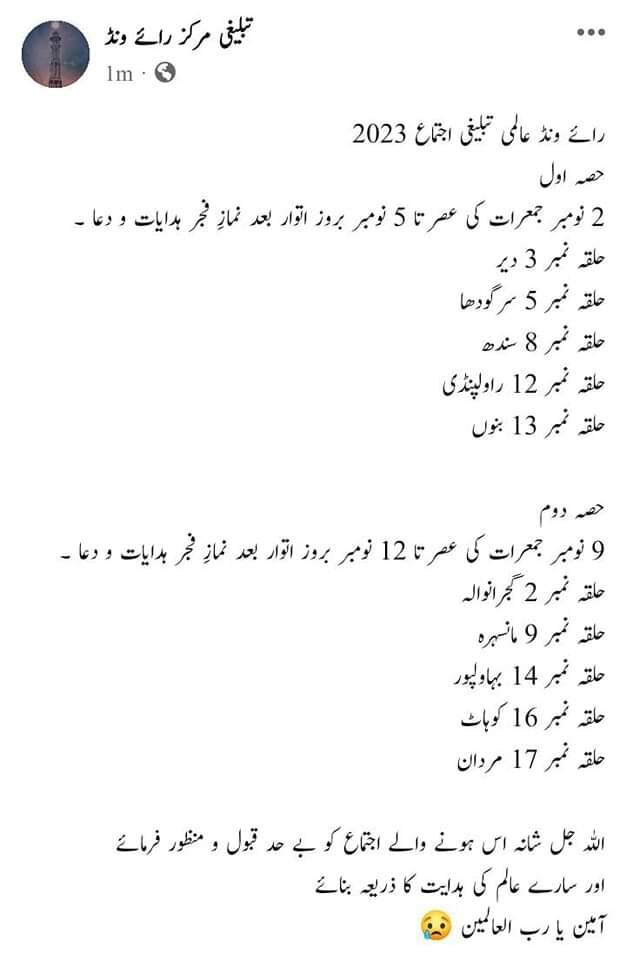 Raiwind Tablighi Ijtema 2023 Date:
1st phase of Raiwind Tablighi Ijtema 2023 was from 2 to 5th November. The preparations for the meeting started greatly. Wapda removing the load shading and the health department is busy arranging the temporary hospital. 10 Lac Muslim people are expecting from Pakistan and the world. It is a big opportunity for gathering and learning about dear Islam.
2nd phase of Raiwind Tablighi Ijtema 2023 is on 9 to 12 November. The Department of Railway announced the special 11 trains. The Government of Punjab will provide the proper security and traffic facilities.
hence these are all the details about Raiwind Tablighi Ijtema 2023 Date Schedule for Bayan and Dua in the 1st and 2nd phases. Hope you have gained all the details about this Tableeghi Ijtima 2023 in Lahore Raiwind. Remember us in your prayers. Thank You!