Raiwind Tablighi Ijtima 2014  is going to start from 6th November, 2014 till 16th November, 2014 as this year the Raiwind Tablighi Ijtima is going to be completed in two phase as phase 1 will start from 6th November and ends on 9th November and the second phase starts from 13th November and end 16th November. The phase 1 will be of 9 cities that are Lahore division, Gujranwala Division, Deer, Bajor, Chitral, Faisalabad Division, Sargodha Division, Peshawar Division, Swat, Mangora, Kalam, Sindh Division, Gilgit, Baltistan, Kohistan. Whereas the 2nd Phase is for the DI Khan, Meeran Shah, North Waziristan, Rawalpindi Division, Muzaffarabad, Multan, Layyah, Dg khan, Rajan Pur, Bannu, Bahawalpur, Karachi, Turbat, Kohat, Mardan, Quetta, Malakand so that final Dates for Bayaan and Dua are as follow. According to the newspaper Jang it is started that the first round of this Tabligi Ijtima will be started from 6th November November, 2014 and the ending pray will be on 9th November and 16th November, 2014.
Raiwind Tablighi Ijtima 2014 Dates Bayaan and Dua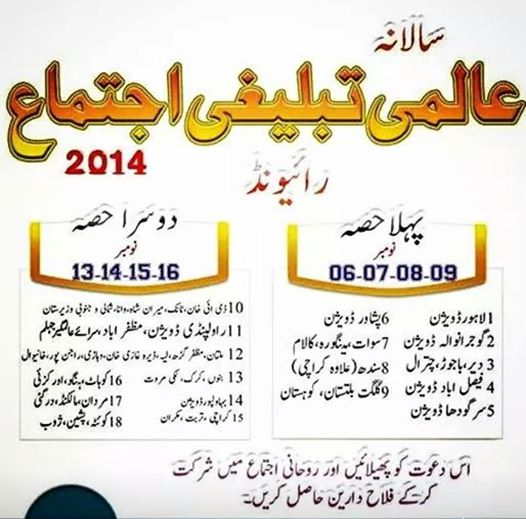 1st step of annual meeting of world scholar on 6 to 9th November, ending pray in the month of 9th November. The preparations of meeting start greatly. Wapda removing the load shading and health department are busy to arrange the temporary hospital. 10 Lac Muslim people are expecting from Pakistan and the world. It is big opportunity to gathering and learning about dear Islam.
2nd step of annual meeting of world scholar start from 13 to 16 November. The department of Railway announced the special 11 trains. The Government of Punjab will give the proper security and traffic facility.