Now today you can get the city school lahore branches, Head office, fee structure details with few links. is one of the largest private English medium school systems in Pakistan which operates more than 150 schools in 42 cities across Pakistan. It offers preschool, primary education, secondary education and preparation for local SSC and the international GCE. Most of its students opt to take the international GCE O and AS/A Level examinations organized by the CIE of UCLES.The City School and its subsidiaries are usually attended by the children of the most influential, elitist, and affluent families of Pakistan. It is one of the oldest and most well reputed private school in Pakistan.The fee in The City School starts from PKR 17200/- for 2 months and increases with the level of class.
There are four houses in the school system namely: Red, Yellow, Green and Blue. Activities and competitions, such as football matches or basketball matched, are conducted house wise to help develop unity and discipline. There are two house captains in every house to led them. The mottos of the houses are Red: I am to strive Yellow: I am to serve Green: I am to lead Blue: I am to persevere now . now get links through below side
The City School Lahore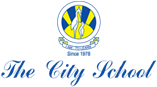 if you want more details then just drop you comment in comment box.