Cadet College Ormara starts to intake admission 2016 for 8th Class under N-Cadet Scheme for Bloach Students. Pakistan Navy feels proud in achieving another milestone that is development of Cadet College Ormara. This Year College starts its session of 8th Class under such best scheme of Cadet oriented boys.
This Cadet College is located at Ormara(Karachi). Land of College covered area is totally collected is 400 Acers. This College is well furnished as well as decorated with latest facilities over there in Class rooms. 50% seats among total nominated berth over there in Ormara College is separated for Baluchistan Province. But Quota system of Cadet College Ormara is also require Merit Marks for admission so far.
Download Admission Form
Last Date to Submit Form is  month October 2016
Cadet College Ormara Admission 2016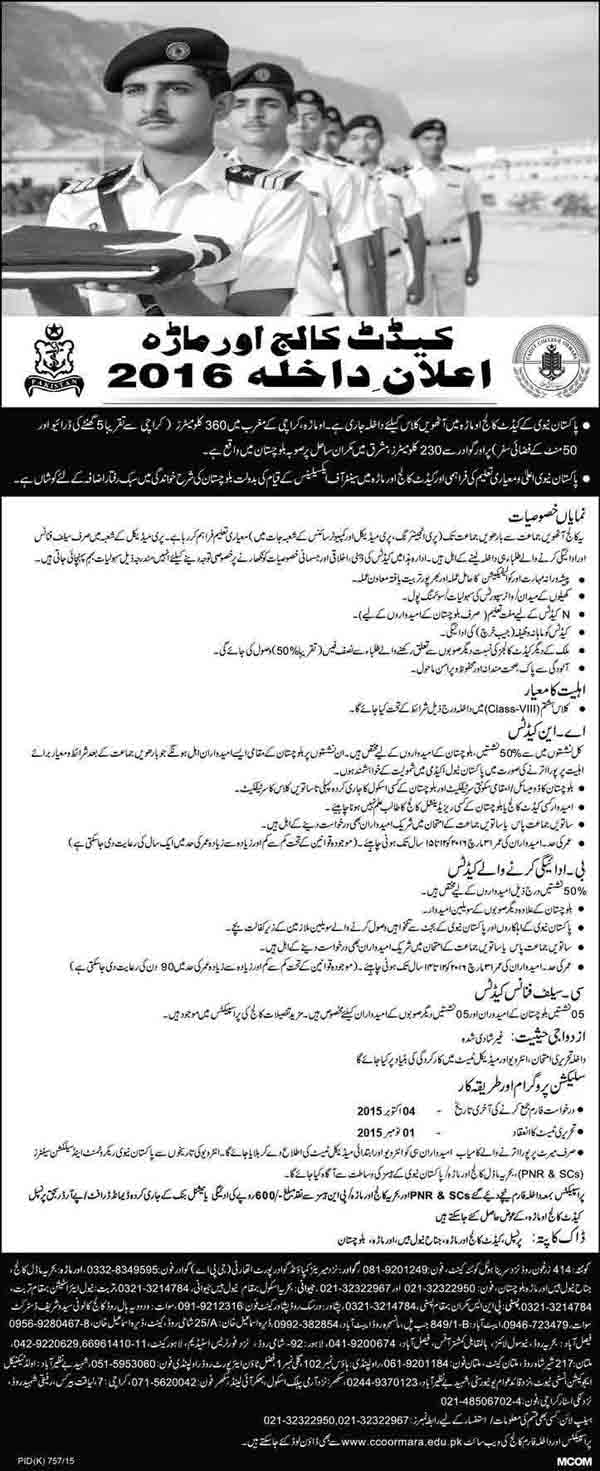 7th Class passed students are eligible to get admission against this Cadet College Ormara Admission Notice displayed here. Only those candidates are eligible to get admission having age under 12-15 years till 1st April 2016. Last Month to submit form is October 2016 and Written examination against this Cadet College Ormara Admissions is November 2016.
The children that has passed the examination of class 8th and are dependent on the Govt. employ are eligible to apply in the Cadet college Ormara.
Only those candidates are eligible to get admission who really deserving upon Merit Selection. You can get in touch with PNR&SC and Bahria College Ormara. Prospectus and Admission form is available against this admission Notice from Office against Rs. 250.
In Case of Queries:
Mailing Address
Principal Cadet College Ormara,
HQs COMCOAST, 10 Liaquat Barracks, Shahra-e-Faisal, Karachi.
Helpline
For any queries/further information please contact following telephone numbers / mobile number (0341) 2365787, (0334) 2104897.