PPSC takes PMS Exams in Pakistan according to the given Introduction to PMS Exams. Vacant seats in the Provincial Management Services are being fulfilled through the conduction of the entrance test which is known as the PMS examination. These examinations are being conducted on the provincial level and each province is liable to arrange and conduct the PMS examination in which the selected and qualified candidates are being given the hold and designations on the provincial level in the civil service and the provincial management service areas.
The candidates who are successful in the test are being accommodated in the various governmental owned provincial departments. There is no selected and pre-defined schedule of the PMS examination like other examinations in Pakistan but the PMS exams are only conducted when there are vacancies on the provincial level. The province in which the vacancies are being witnessed organizes and conducts the PMS examination to fulfill them timely.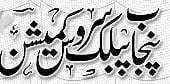 The paper pattern of the PMS examination is very much similar to all of the provinces and the total marks of the PMS examination are 1200. The candidates who are willing to apply for the PMS examinations are given the set of courses and subjects which are divided into two sections, as one is the compulsory sections and the other is optional sections. In the compulsory section there are six subjects of 100 marks each and the candidate has to appear in all of these six subjects as they do not have any choice and are mandatory to be taken, the total marks of these compulsory courses is 600.
In the optional section the candidate has to choose any three subjects out if the lists which are of 200 marks each, the candidate must select any three optional subjects so that the total of the optional section also becomes 600.
Both the male and female are given equal opportunity to get appeared in the PMS examination as both are preferred and are appreciated to apply and get into the provincial service of the country. In Punjab the PMS examinations are being conducted under the Punjab Public Service Commission (PPSC), like in Punjab each province has its own Public Service Commission which is authorized to take the PMS examination for their respective province.
The age limit for the PMS examination is from 21 years to 31 years as per the Georgian calendar. The candidate must secure 33% or more in all the subjects in which they appear under PMS examination and should also be able to acquire 50% marks in all the respective interviews to get qualified in the PMS examination in Pakistan.