Zong Supreme Monthly Offer unlimited call details, SMS details and MBs details along with how to subscribe and unsubscribe code, benefits and charges is all written here. If you are a Zong prepaid customer and want to get relaxed for whole month then here is a great offer is on the edge to subscribe. Zong Supreme Monthly offer bring lot of calls minutes for Zong to Zong and other networks, also SMS and MBs for 30 days. Zong is always in the seeking of conveniences for its customers and brining lot of new offers and packages that are not only easy to subscribe but also available in less rates. Zong Supreme is also this type of offer in which once you subscribe you got lot of stuff for whole month (30 days). But here I would like to suggest you that must read the terms and conditions (fair policy) about this offer so that you can get known about actual charges and taxes that are considered as hidden charges by customers. Now keep on reading to more details about this Zong Supreme Monthly offer unlimited call details.
Zong Supreme Monthly Offer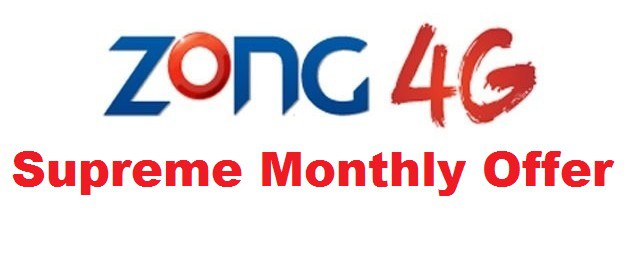 Recharge Required
Rs 750
Balance Required
(in case of self-subscription)
Rs 568.28 including tax
(Rs 475.54+ tax)
Zong to Zong Minutes
3,000
Other Operator Minutes
300
SMS
3,000
Mobile Internet (MBs)
3,000
Validity
30 Days
Activation Procedure
*6464# > 4 > 3
Zong Supreme Monthly Offer Benefits
Rs. 750 including tax and other deductions
3000 Zong to Zong (on-net) free calls minutes
300 Zong to other networks (off-net) free calls minutes
3000 Messages to all networks
3000 MBs 2G, 3G and 4 G internet
Validity for 30 days
How to Subscribe
First of all the procedure or subscription will be made  automatically by visiting your nearest Zong franchise
Dial *3030#
You can also dial *6464*4#
Send sms sub 750 to 6464
How to Unsubscribe
For unsubscribe the Zong supreme monthly offer you just have to send message by writing unsub 750 and send this message to 6464
Fair Policy/ Terms and Conditions
Offer will be auto re-subscribe after a month
In case of consumption of all benefits before ending month the basic calls, sms and MBs charges will be deducted
14% withholding tax is applicable
5 % FED for Punjab, KPK and Baluchistan
19% FED for Sindh
5 % FED for rest of Pakistan
Hence this is all about Zong Supreme Monthly offer unlimited call details. Hope you are inspired with the exclusive offer and want to avail this offer. But in case you have any FAQ in your mind set and want to get answer of your query then send your comment in the following comment box.