Ufone is always in seeking of providing the best and the fastest internet speed to all of its prepaid and postpaid customers. In this way it has introduced a wireless devise that is known as Ufone EVO 3G wingle. And here I am presenting you all the details about Ufone EVO 3G wingle packages 2021 device price, monthly charges and all charges of each package plan. If you want to get the best and the most reliable 3G wireless speed then never ignore the Ufone because they have lot of benefits in cheapest rates but the best quality. This Ufone internet USB is portable and you can bring it anywhere at any device that allows to connect a USB port in it, like laptop or you can also connect it with a charger. It is because this USB works on just plug and play technology. Moreover there are various other facilities like you can get the access of your device with your mobile number as well as you can also check its current status and signal strength with the blinking lights on the device. So have a read below to get the details about Ufone EVO 3G wingle packages 2021 along with device price, monthly charges.
Ufone EVO 3G Wingle Packages 2021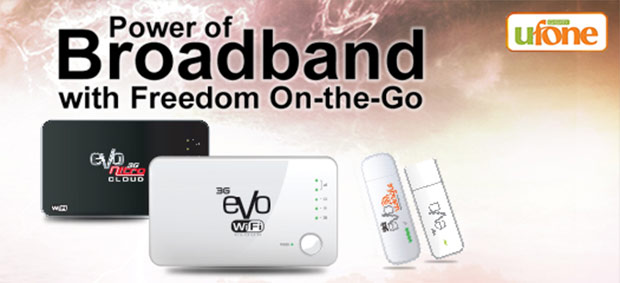 Ufone 3G Wireless USB Devices
Ufone providing the following devices in which it provide the 3G packages as under
Ufone 3G EVO family
U 3G Eco Wireless Broadband
Ufone 3G EVO Wi-Fi Cloud
Ufone 3G EVO Nitro Cloud
Ufone 3G EVO Wingle
Ufone EVO Wingle Packages 2021
Ufone is not providing the packages for EVO 3G wingle Wifi USB. Customers who want to join the best and the fastest speed internet USB of Ufone have to come at nearest Ufone franchise along with CNIC copy. Its device price start from Rs. 15,00/- for a wingle device while the Wi-Fi cloud and Nitro Cloud USB could upto Rs. 4000/- but these are not confirmed charges because company has not shared its devices prices on its officials website. So you are suggested that you mist visit the franchise or customer's care center for buying your Ufone wingle.
Features of Ufone EVO 3G Wingle
It is a 1900 MHz band frequency supported device that is fastest ever
It can grab up to 9.3 Mbps on downlink / 5.4 Mbps on uplink*.
You can also insert a micro SD card up to 32 GB and it will work as a card reader
It's a plug and play USB which means you don't have to install any third party software in your PC.
Speeds up of to 9.3 Mbps in 200+ cities
You can connect up to 5 Wifi devices at a time
So this is all about Ufone EVO 3G wingle packages 2021 device price, monthly charges along with features and details. I personally suggest you that this is the best 3G internet providing company with full signal strength. So once meet the customers care center of Ufone at your nearest place and see that how interesting products are on counter for you.