Medical Field is best field among all because these days there is a great scope after getting degree in medical. So students want to get a prosper and bright future must join any medical college after doing intermediate and eligibility for getting admission in any medical college is essential to qualify the intermediate examination with FSc Pre medical or equivalent to A Levels or any foreign certificate issued by IBCC Islamabad. So the students want to get admission in Private Medical Colleges in Rawalpindi and Islamabad must fulfill the eligibility criteria. Islamabad is the capital of Pakistan having a great educational institutes, it has the highest literacy rate in Pakistan of 87%. A large number of public and private sectors education institutes are present here. The world's second largest university by enrollment, AIOU is locates in Islamabad for distance education. We have also mentioned Private Medical Colleges in Islamabad next to this paragraph, students want to get information about medical universities can get from here.
Coming to Rawalpindi, it is also well know by educational point of view as it has highest literacy rate. Rawalpindi has both public and private educational institutes, most of them are gender based from primary to university level. Private Medical Colleges in Rawalpindi and Islamabad list is given under here.
Private Medical Colleges in Rawalpindi and Islamabad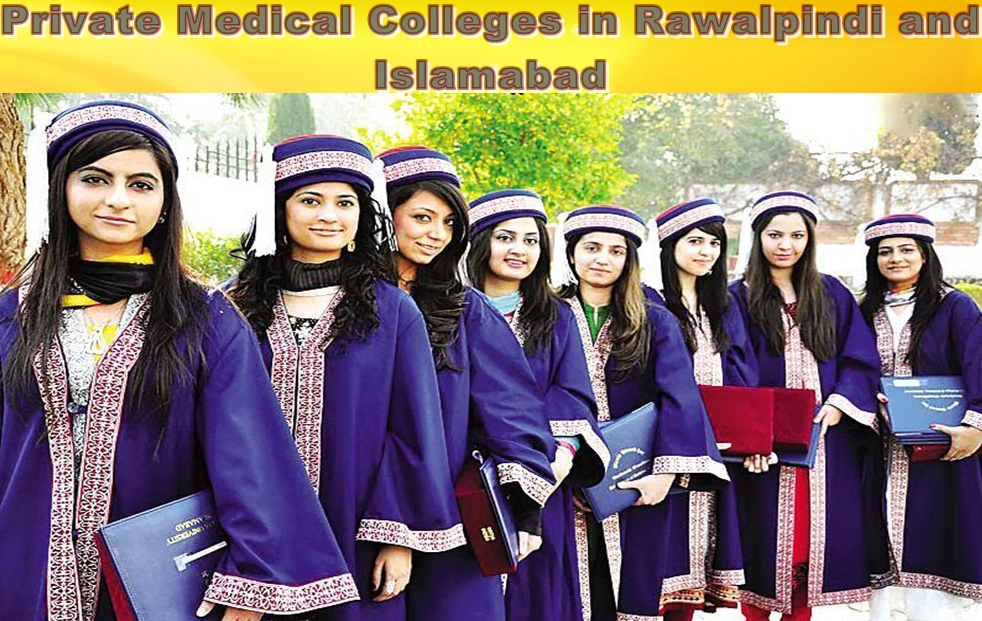 List of Private Medical Colleges in Rawalpindi and Islamabad
Foundation University Medical College, Rawalpindi.
Islamic International Medical College, Rawalpindi.
Shifa College of Medicine, Islamabad.
Islamabad Medical & Dental College, Islamabad.
Yusra Medical & Dental College,Islamabad.
Al-Nafees Medical College, Islamabad.
Rawal Institute of Health Sciences, Islamabad.
All candidates are advised to get admission in the medical Colleges given above because these are the best colleges of Rawalpindi and Islamabad.Programs offered in all the private medical colleges of Lahore includes Undergraduate Medical Education (MBBS), Undergraduate Dental Education (BDS), Doctor of Pharmacy (Pharm D), Doctor of Physical Therapy (DPT), B. Sc. Allied Health Sciences, Ancillary Educational Programs in which students can get degree of B. Sc.  Students belong to Islamabad and Rawalpindi are being facilitated with the the list of private medical colleges in Pindi and Islamabad. After joining these medical college you will have a best and prosper future ahead , you can also do many thing for prosperity of country and your own. Keep connected with this site to get more latest education information form here.