MBBS,BDS Courses In Bangladesh Admission 2016 announces for Pakistani Students. Government Of Pakistan Ministry Of Inter Provincial Coordination (IPC Division). Admission Of Pakistani Students In MBBS/BDS Course In Bangladesh Medical Colleges For Academic Year 2016 On Self-Finance Basis Under SAARC QUOTA. The Government of Bangladesh has offered 14 seats to the Pakistani Students for admission for academic year 2016 in MBBS/BDS on self-finance basis.
The selected students will pay tuition and other Charges at the local rates, which are at par with rates for local students of Bangladesh.The Selection will be made purely on Merit and based on scores In NTS Test.Provincial/regional quota will be observed as per government rules. The Final selection will be made by the donor country and their decision will be acceptable to all parties.
MBBS,BDS Courses In Bangladesh Admission 2016 For Pakistani Students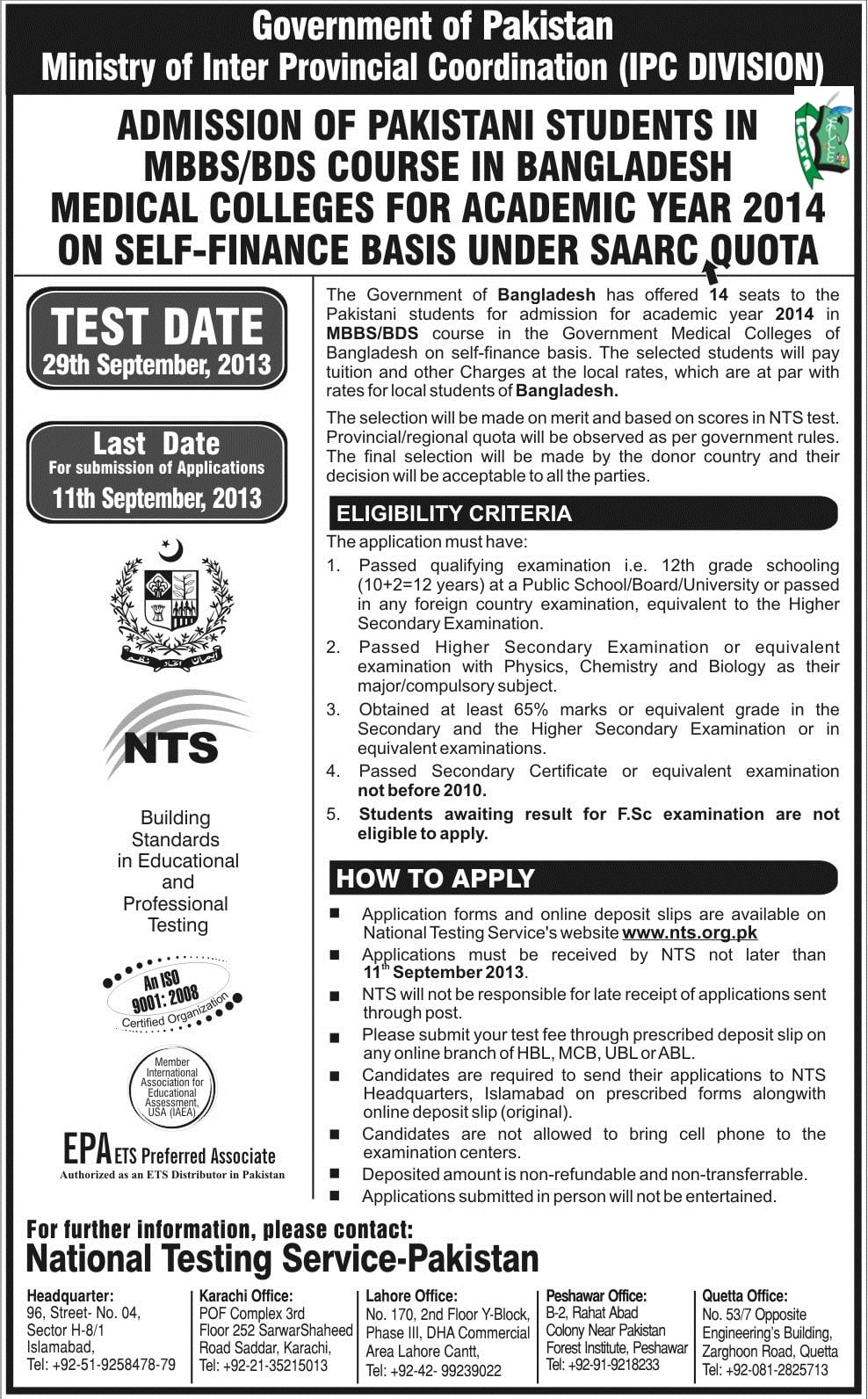 All Applicants should Passed Qualifying examination for example 12th grade schooling 10+2=12 years at a Public School/Board/University or passed in any foreign country examination,equivalent to the Higher Secondary Examination. Passed Higher Secondary Examination or Equivalent examination with Physics,Chemistry and Biology as their major/compulsory subject.Obtained at least 65% marks or equivalent grade in the Secondary and the Higher Secondary Examination or in Equivalent examinations.
Passed Secondary Certificate or Equivalent examination not before 2011. Students awaiting for Result for F.Sc examination are not eligible to apply for Test of MBBS,BDS Courses In Bangladesh for Academic Year 2016.