Most useable Top 10 SEO Tips 2021 For Beginners In Urdu are available here. If you are holding and managing a website or a blog you should maintain its SEO in order to get a place in search engine. Here I am telling you about SEO tips for beginners who have recently started their blog. SEO stands for Search Engine Optimization. So as per its name it is a process to grab the traffic on your page. And traffic is only possible when your website or a page is placing on a good rank in search engines. There is a concept of Keyword and I hope that you are well familiar with Keywords. When people or users are searching for a specified thing with a specified word, it is called as keyword. Such as when user are searching for "SEO Tips" then you should have to optimize this Keyword (SO Tips) in your article or content. When search engine will grab that search with your Keyword it will automatically rank to your website and that will increase the traffic of your website.
Top 10 SEO Tips 2021 For Beginners In Urdu
Well there are so many SEO tips and process but here on this page I am just explaining the top 10 SEO tips 2021 for beginners in Urdu. It will help you to optimize the most search able keywords and to bring your page or post on the top rankings. So keep on reading and we will learn in this article…
What SEO Does?
Why SEO Is Important For Blog or Website
How to SEO Your Website or Blog
What Is Keywords Optimizations

What SEO Does?
SEO stands for Search Engine Optimization. First of all you must know what SEO Does? It is a method of progression of a website's ranking in a web search engine. It is technically known as the unpaid, natural or organic results. In other words, you can that a procedure of bringing a web page on good ranking in search engine is called as SEO. There are different tips and methods for performing this process which is discussed below after …
Importance of SEO For Blog or Website
As a beginner, you might have a question in your mind that why SEO is important for a blog or a website. So you are informed that, when you build a web page it doesn't have any worth in itself for search engine. While the first and the primary purpose for building a website especially a WordPress blog is to deliver our services and to bring them more and more visitors on our website which is called "traffic". Traffic is only possible when your website is placing in good rank and SEO is very important for getting good rank through search engine optimization. The procedure is discussed below. You will find the importance of SEO for Blog or Website after reading this information.
Top 10 SEO Tips 2021 For Beginners In Urdu
So this is the main topic which we are discussing here in this piece of article. you will get top 10 SEO tips 2021 for beginners in Urdu. Every year SEO effects are getting upgraded with the new advancements. So we wrote these tips as per the latest SEO techniques… So it will be so beneficiary for you….
Quality Content
Searchable Keyword
Focus Keywords
Build Sitemap
Remove Broken Links
Use Proper Keywords
Use Long Tail Keywords
Balanced Keywords Density
Unique Data
Marketing your Website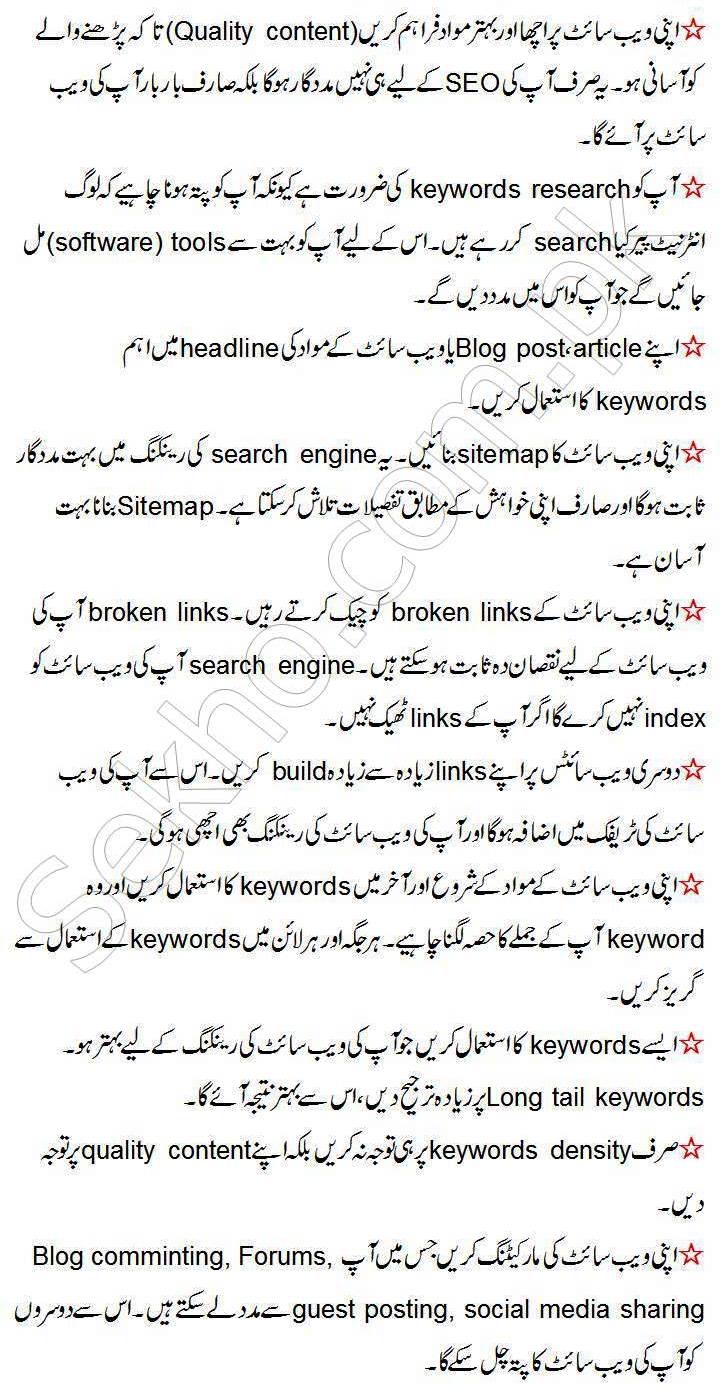 Keywords Optimization
Keyword optimization means you must publish your post with a keyword that is being searched by a common user. And then you have to share the link with another website which people are sharing. It is called link building and it will optimize your Keyword and will bring it to the good ranking in Search engine.
So these are the top 10 SEO tips 2021 for beginners in Urdu. I think you have got the important points for this topic. Keep on SEO to your website and published your data as per these tips and techniques of good SEO. If you have any question or more tip for this title then never hesitate to use the comments box.