If you have a Telenor number and the number you have to call is also Telenor then here is the best option for you which is Telenor 2 hour call package. Here I have wrote all details about this superb package along with subscription code, charges, duration and all terms and conditions application on this package. In this package you can make unlimited call on on-net number such as the number you have to call must be Telenor not matters if it is a djuice user or talkshawk user. You can subscribe this package at any time during the whole day and your two hours will start after the 1st minute of hour you have subscribed the package. Moreover you can also make more than one time to this package for example if you have consumed this Telenor 2 ghanta call package and want to subscribe other 2 hours to talk on your on-net number you can also avail this offer again after the 2 hours. Besides the free minutes there are lot of other benefits in this package which you can utilize in this package. Keep on reading to get that all details about Telenor 2 hour call package code unlimited on net calls along with benefits and fair policy…
Telenor 2 Hour Call Package Code Unlimited On Net Calls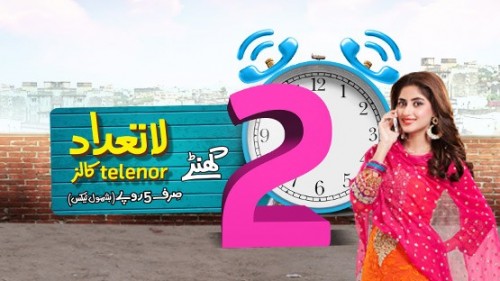 Telenor Good Time Offer:
Get 2 hours of talktime to any Telenor number (Talkshawk and Djuice) and 200 MB for Facebook for 2 hours.
Benefits: Unlimited on-net minutes for 2 hours (except 6pm to 9pm)
Validity: Daily
MBs: 200 MB + 50 MB for Facebook
Subscription: Dial:*345*20#
Available on:Full Day (except 6pm to 9pm)
Charges: Rs: 7 Inc. Tax
Fair Policy
You can subscribe any two hours except 6pm to 9pm
One can subscribe 2 hours more than one time a day
Basic general tax and deductions are applicable
So this is the details about Telenor 2 hour call package code unlimited on net calls. If you like this package then now subscribe it but if you have any query relating to this package you can ask via comments section below of this post we will reply you as soon as possible. You can also visit the main home page of this website for getting more details and packages of Telenor for call on Telenor to Telenor numbers.