Hair fall issue is most seen in females which is really a big hitch for them. Mostly this problem lies upon those females who don't take cares of their hairs and in results they fetched into the hair problems. Alongside the females there are many males who also don't take care of their hairs and they also get involved in different hair problems. I am sure that any of you is not interested to face this problem and now you are searching for a remedy that can get rid of you from this hitch. So in this way here I am telling you a very useful, home based and natural remedy through which you can face and resolve your hair fall and dandruff issues. Yes of course! I am talking about egg oil for hair loss in Urdu. Keep on reading this post to get the proper procedure that how much oil you need and how many eggs are suitable for that quantity. Moreover in which order you have to apply this mixture in your hairs. You are also suggesting that you must leave mixtures on your hairs for a limited and given time and wash it with normal water (not so hot and not so cold).
Egg Oil For Hair Loss In Urdu
Before following this method, you must keep in mind that never excess to any ingredient and use the below given quantity and after applying on your hair wash must your hairs with shampoo after 35 to 40 minutes.
You can click on the image you are watching below to make it bigger so that you can read it easily.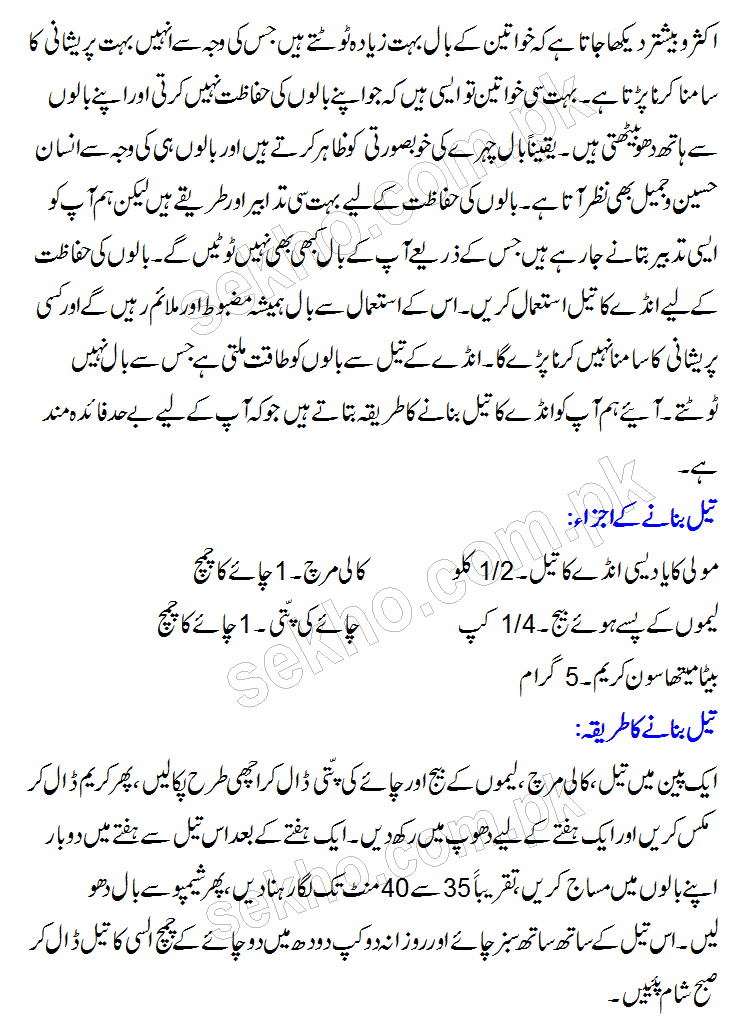 So this is the natural home based remedy of egg oil for hair loss in Urdu. This is also beneficial for dandruff problems as well as it will also stop other hair problems and will increase the growth of your hairs, along with healthy, shiny and strong hairs. In the end you are invited to share your tips and remedies with us if you have any, via comments box below of this passage.