Ufone *5050# Package Asli Chappar Phaar Offer details are given here on our website. Ufone has broken all record of packages of all other competitors by the launching an all new and mega package which is named as Asli Chappar Phaar Offer. Nobody could have given such a huge offer in the past like Ufone has now offered for its customers. It is quite difficult to believe when we see the details of this package. Such a huge offer is given at just very low price. Ufone always believe to give best to its valued customers. Ufone was founded on 29th February 2001 and is GSM Cellular Service provider in Pakistan. When Ufone started its operations in Islamabad on 2001 it was the third Mobile Operator in Pakistan. According to a survey it is stated that Ufone is the fourth largest mobile service provider in Pakistan on the basis of Subscribers. At the time Ufone have more than 24 Million Subscribers all around the Pakistan. These statistics Ufone is the Largest Mobile service provider in Pakistan. Here we are providing you all the detail regarding to Ufone's all new offer of Asli Chappar Phaar. These details will include subscriptions details, offering details, Activation procedure and other terms and conditions. For further more information regarding to Ufone *5050# Package Asli Chappar Phaar Offer you can also concern other posts from our website.
Ufone *5050# Package Asli Chappar Phaar Offer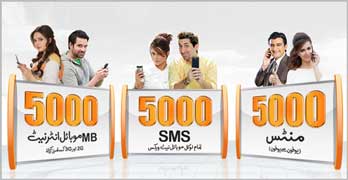 Charges Rs. 120 including taxes
Validity: 7 Days
Ufone to Ufone: 100 minutes
Internet (2G & 3G): 1000 MB
SMS: 100
To subscribe dial: *5050#
Ufone Asli Chappar Phaar Offer details
Ufone Subscribers are informed that Ufone brings an all new Package with Asli Chappar Phaar Offer. This is really a a chappar phaar offer as with this offer, Ufone subscribers will be awarded 100 Ufone to Ufone minutes, 100 SMS to all Local Networks and that's not just all, With this offer you also get 1000 MB Mobile Internet for both 2G and 3G Customers. This offering is going to be the best offer ever. Customers can now enjoy everything without worrying about the package to be running out. Enjoy these services as you want with Ufone Asli Chappar Phaas Offer and all these services at just Rs. 120/- + Tax.
Activation
Ufone Prepaid subscribers can avail this wonder will package of Asli Chappar Phaar offer by Dialing *5050# on the dial screen of you handset. It is to be noted here that this offer is only for Ufone Prepaid customers. Ufone Postpaid customers are suggested to see for other packages.
Ufone Asli Chappar Phaar Offer terms and conditions
10 paisa + Tax will be applied for each call.
Asli chappar Phaar offer will be valid for 7 Days from the day of subscription if package.
Only prepaid customers can avail this offer.
Customers from Islamabad, AJK, Gilgit/Baltistan and FATA will be charged 0.84% on all services and packages.
Minutes are offered only for Ufone to Ufone, SMS for all local networks and Mobile internet is valid for Both 2G and 3G.
For the confirmation of remaining minutes dial *707#.
For further more news and updates regarding to Ufone *5050# Package Asli Chappar Phaar Offer you can visit our website any time again. You can also have a review on other packages offered by Ufome.