There has been an announcement made by Honda that the Honda City 2024 model will be re-introduced as a new edition. Here on this website, you will find the Honda City 1300 CC 2024 price in Pakistan. It has that unique style and looks that we haven't yet seen in any previous Honda City model. Honda City New Model 2024 Specifications and Features can't be compared to previous models because they're far superior. You should ensure that if you own the older model of this car and are planning to buy the new and latest one, you get this model. You will find all the features you were looking for in a new car in the Honda City 1300 CC. Here we'll tell you about the Honda City 1300 CC price in Pakistan as well as its features.
Honda City 2024 Price In Pakistan
Honda City has introduced two new models, including the 1300 CC and 1500 CC. Furthermore, it has a manual 1300 CC and a prismatic 1300 CC model. There is a difference between these two variants, as well as their prices, are also different. The new Honda City has an i-VTEC Euro 4 compliant engine with G-con technology. It also has adjustable power steering, a front black painted grill, and an immobilizer. This new design also includes a side door protector, which was not available in its previous models.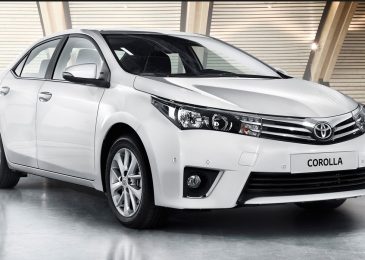 Honda City 1300 CC 2024 Price In Pakistan:
People who are going to purchase the new Honda City 1300 CC 2024 model must have to check the Honda City 1300 CC 2024 price in Pakistan first so that they can get an accurate rate at the shop. We are sharing the Honda City 1300 CC Price in Pakistan along with other tax details, including filer tax, etc. So check the below table.
| | |
| --- | --- |
| Variants | Price |
| Honda City 1.2 L M/T | PKR 4,799,000 |
| Honda City 1.2L CVT | PKR 4,929,000 |
| Honda City 1.5L CVT | PKR 5,549,000 |
| Honda City Aspire 1.5L Aspire M/T | PKR 5,759,000 |
| Honda City Aspire 1.5L Aspire CVT | PKR 5,979,000 |
Apart from this base price, customers have to pay RS 50,000 as filer tax. 9000 for a four-year warranty, etc., which is not included in the above price. For further details about the price of the new Honda City, you can visit the official website of Honda City, which is hondacitysales.com.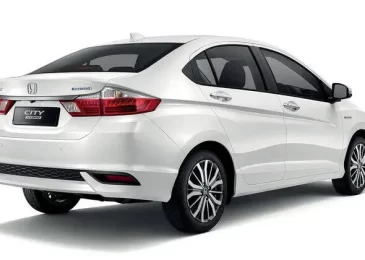 Honda City New Model 2024 Features:
It has a 5-speed automatic transmission and also gives you low fuel consumption. This capacity for low fuel consumption will make this car the best car for long journeys. It has a newly designed suspension system that has been accompanied by drive-by-wire control. This car can give you ease and convenience and can give you the best pleasure on the highway. It is proven that all these features that have been shown and illustrated over here can give you the most comfort, that they can give you an easy and smooth driving journey.
It Has All The Safety Measures:
You will see that it is furnished with active safety features. It has ABS and also Brake Assist mechanisms. It has revolutionary G-Force Control technology and also a crash-compatible design. It has front 3-point ELR safety belts. These 3-point ELR safety belts, as well as the introduction of cutting-edge technology, help to make this car safer, and the sound is a prominent feature in this vehicle. While sitting in this Honda City 2024 New Model, you will not get this scary feeling that you might get injured because all these safety features and applications that have been present in this car will make your journey safe and sound.
 Sporty Look:
It has a sporty look and also a wider width. It has height and length, which is just the killer part. It has bull's eye headlights and stylish looks! We are sure that all the sports lovers out there will just love the sporty look of this Honda City 2024 model.
i-VTEC Engine technology:
It has i-VTEC engine technology that is fully comprised of 16 valves and also 4 cylinders. Because of this, the engine is powerful and more advanced in this model because it uses VTEC technology. This powerful engine in this model will give this car a much better boost in performance and you will be having racing car sessions. This car is fully functional thanks to the most recent introduction of VTEC engine technology.
Aerodynamic Design:
It has an intelligent aerodynamic design, a five-inch built-in LCD system, and an in-built hands-free telephony system. It has electric steering, which is embedded with the auto controlling functions. All these entertaining features will make your journey more enjoyable.
Entertainment Features:
It has an eight-speaker surround sound system, Bluetooth, and also USB and MP3 connectivity. It has four power outlets in the front and also has power seats in the rear. You will also find cruise control and a sunroof. It has this front and rear touch and also has an automated air conditioning system. One can say that these special and recreational features and apps present in this Honda City 2024 model make this model a special one.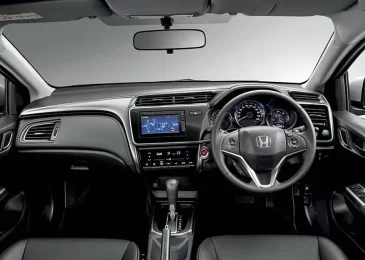 So, this was all about the Honda City 1300 CC 2024 Price in Pakistan, its specs, and other features! If you have been a fan of Honda car models, then it is better for you to try this Honda City 2024 New Model too. Its safety measures, its entertainment features and applications, its pricing and intelligent aerodynamic design, its –VTEC engine technology, and G-Force Control technology will make this car a demanding one. Have you ever considered that the functions and applications in a car are what make it exceptional? We will be sharing more of the details of this Honda City 1300 CC New Model 2024 Price in Pakistan, so stay tuned with us. Just bring this beautiful car into your garage!