Warid conference call activation code, method, charges and details are written here. Prepaid and postpaid customers can avail this amazing option during a call where more than two persons (up to 6) can talk at a time. Ever member on conference can listen to other member and other can listen to one who is speaking at a time. This option is very useful when you are talking in a group or you have to decide something with in more than one persons at one point. Moreover there are various benefits of conference call just like there is no any extra charges are applicable, you can add or reject any person on conference, you are safe from charges for making another call to said same dialog again and again on every new call. So if you are also interested to use a conference call using Warid then keep on reading this post to get further interesting details about Warid conference call.
Warid Conference Call Activation Code, Method, Charges
Warid Conference Call Activation Code
There is no any activation code for this service because this service is already existing with every user and it could be use according to the mobile phone. When you are talking on a call to any one and want to add a third person in this call you have to make a conference call by following the below given method…
Warid Conference Call Method
It is very simple and easy to make a simple call into a conference call and the procedure is as
During a call you have to hold existing caller
Go to option/ menu according to your handset
Select option for New Call
Dial the number to whom you want to add in your call as third person
Now select conference call from options
You can repeat the same method to add more and more persons in one call but up to 6 persons
In case third person is call to you during an on-going call you just have to attend this call and then select the conference option.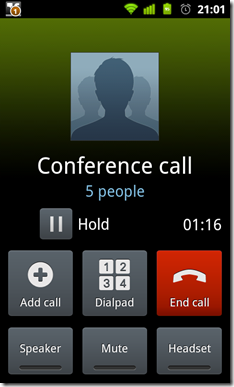 Warid Conference Call Charges
There is no any extra charges are applicable for a conference call as the basic call rates will be apply according to your package. If you are talking on hourly package or in case you are using free minutes you can make a conference call without any extra charges.
So this is all about Warid conference call activation code, method, charges. Hope you are enjoying with Warid Daily, Weekly and Monthly Call Packages and all clear about this amazing option of conference call that is already existing in your mobile phone.