Ufone 30 lakh Special Number for Users Offer Details are available on this page. you can easily understand New Ufone offer method we explain the offer in details with terms and condition so keep in touch and read it. This technology portal provides latest technology details, updates, news, and we share all telecom sectors packages or new offers for our regular and also new website user. Here you can easily get Smartphone information latest model with PKR price.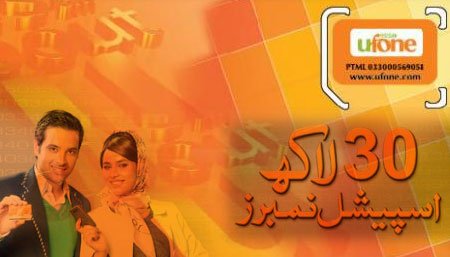 Everyone knows technology is improved day by day and now a day's Pakistan focus on technology sector and here telecom sector are so strong and get maximum share in market business. So that the reasons the strong investor invent in telecom sector that is the profitable sector in Pakistan. Many companies provide telecom service but Ufone is the number one telecom company in Pakistan. it provide the  lot of packages with cheap rate. That's is the very helpful for the people of Pakistan.
now these days Ufone introduce the one more special offer of Ufone customer and also for new Ufone user. In this offer people has got millions of special Numbers . All the Ufone users who always waned to have your own truly individual number can get this offer. Now people can choose and book one more number that they like from 3,000,000 numbers and make it very own. The number you can chose may be your base on your date of birth, wedding date, house number, car number or may just have your lucky digits it can be anything that will final on your desire.
These Special Numbers are available for everyone; therefore all those who are not enjoying Ufone's crystal clear voice clarity, instant connectivity and unmatched network coverage can now become a part of Pakistan's favorite network. To book your Special Number dial *0000# from your Ufone or follow the steps mentioned below.
So if you want get any number on you demand than enter between 4-7 digital number of your choice. Take your number before someone else takes your number so hurry up guys.
Every offer have some Term and Condition so read all the term and condition Ufone have quality they show all term and condition not single one hidden for the customer and PTA announced all telecom companies show term and condition with rate no single one hidden or small format.
Offer Term and Condition:
Charges of finding number each time through *0000# is Rs. 1+tax
Booked number will have to be collected within 5 days of booking from any Ufone Service Center or Franchise, failing which booking will be cancelled
While purchasing the SIM, showing original Valid CNIC is mandatory
Purchase price and taxes will have to be paid by the customer
This offer is for all Ufone (prepaid and Postpaid) customers
Booking of number depends on the availability of stock
No special charges apply to any number on this offer
No charges apply to finding/booking number on the website
Customers of other networks can also visit our website to book number
Ufone reserves the right to change or cancel the offer
Terms and Conditions apply.
Using a SIM which is not in your name or allowing others to use your SIM is a crime – PTA
19.5% FED on usage and other taxes on recharge or bill apply.