I have updated the latest promotions of Qubee Internet Packages 2023 In Lahore and Karachi. Qubee brings Pakistan's most reliable broadband internet services at the very lowest rates with a lot of possibilities. Qubee provides maximum speed within a very convenient line rent under 850 MHZ internet parameters through USB Shuttle, Free Wifi-Fi Router, and Free Device according to different internet packages. Alongside its prescribed and fixed packaged it also offers various attractive offers off and on, such as last days the double GB internet offer was in a trend that double each data volume in same line rent for complete 2 months on special days like independent days. Similarly, it offers 2 GB and 3 GB extra volume free of cost.
Qubee Internet Packages 2023
Further Qubee is working to innovate new ideas, plans, and packages to avail internet easily to each their valuable consumers all over Pakistan. Well, readers, you are also suggesting that because Qubee has a big competition.
It aims to be at the top of the list of Pakistan's reliable broadband so that is why it is providing the best services for each user. Here below is the complete Qubee Internet Packages 2023 with the latest promotions and updates.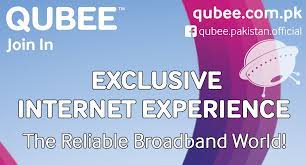 Qubee Internet Device Packages 2023:
Qubee Internet Packages are the same for Lahore and Karachi City. Those who are looking for the details of the package can check the below-given table in which the complete detail is given about the package prices of this internet company.
| PACKAGE | VOLUME | VALIDITY | PRICE |
| --- | --- | --- | --- |
| Qubee Explore Max Internet Package | Unlimited | 1 Month | RS 800 |
| Qubee Conquer 30 Internet Package | 30 | 1 Month | RS 999 |
| Qubee Conquer Max Internet Package | Unlimited | 1 Month | RS 1000 |
| Qubee Conquer 60 Internet Package | 60 | 1 Month | RS 1199 |
| Qubee Conquer Max 2 Mbps Internet Package | Unlimited | 1 Month | RS 1399 |
| Qubee Invade Internet Package | Unlimited | 1 Month | RS 1499 |
| Qubee Supreme Max Internet Package | Unlimited | 1 Month | RS 1999 |
Terms and Conditions
Well, readers the internet packages and all terms and conditions including fair policy is all written in the above image. You all have to follow these instructions otherwise your internet connection will be lost and in other cases, PTA has a complete right to act against you in case of any misuse or cybercrime.
You are also informed that the free model, router, or device will remain the property of Qubee and that you will pay one-month advance line rent as security.
So just keep these instructions in mind and keep on enjoying the Internet. So, this is all about Qubee Internet Packages 2023. If you have any queries related to this post, then ask in the comment section.