PTCL 3G Evo 3.1 500/Month New Year Package 2014 details you can get from this website. Here you can also get the device, Package rates or availability. PTCL have vision to be leading information and Communication Technology Service Provider in the region by achieving customer Satisfaction and maximizing shareholders value.  PTCL have record they provide all carrier services right from inter connection and telehousing o DPLC and IPLC connectivity.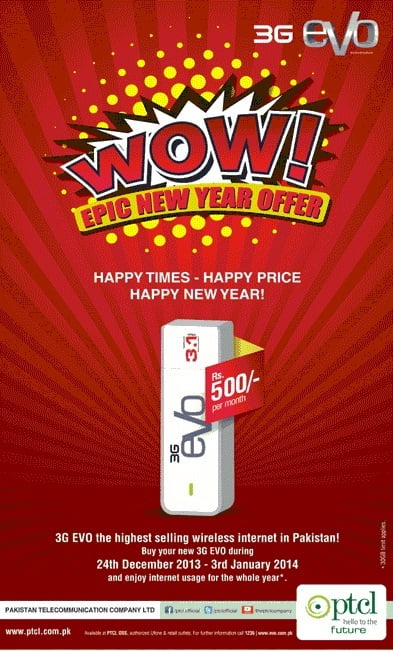 PTCL EVO 3G Wireless Broadband is Pakistan's fastest wireless internet offers its customers superior 3G internet experience. EVO Wireless Broadband is enabling the wireless broadband revolution in Pakistan with flexibility to roam freely like never before. PTCL introduce EV 3G Nitro in Pakistan. The World first most cutting edge EV-DO Rev.B  products which offer blazing fast speed of up to 9.3 MBPS. EVO 3G Nitro is all set to meet the next generation need for Ultimate speed and superior performance. After PTCL introducing Pakistan first 3G USB modem with built in Wi-Fi hotspot. EVO Wingle is all out and about The most talked about futuristic Wi-Fi tool that lets you effortlessly connect multiple Wi-Fi gadgets simultaneously at Hyper Speed of up to 9.3 Mbps in over 250 cities and auto switch over to EVO 3.1 Mbps speed in over 350 cities. It lasts you connect "n" share effortlessly through any external USB power adapter.
Big EVO offer
PTCL introduce Package if you Buy a new EVO device between 24th Dec 2013-3rd Jan, 2014 and enjoy 58% discounts on monthly charges for the whole year.
EVO Offer Details
Under this proposition any subscriber making a new purchase for EVO USB(Prepaid & postpaid) between 24th Dec -3rd of Jan shall enjoy 58% discounts on monthly charges for 12months. Below are the package details for the promotion:
EVO Device charges
Rs.2,550
Monthly Recurring charges
Rs.500/month
Volume limit
30GB
Billing options
Prepaid & Postpaid
Key Highlights:
Limited time offer for all potential EVO subscribers giving them the opportunity to enjoy massive savings of 58% discounted monthly charges for a whole year.
Pakistan's fastest growing coverage network covering 90% of the country's population.
Mobile broadband internet that keeps you connected wherever you go
Seamless EVDO roaming in 250+ cities with auto switch over to lower speeds in the non-EVDO coverage areas.
Business Rules:
Promotion is applicable for purchases made between 24th Dec to 3rd Jan 2014.
Promotion is valid for new sales on EVO 3.1Mbps USB only.
Promotion is valid for postpaid and prepaid subscribers.
Offer is not applicable for package conversions
Offer can be availed from any PTCL OSS or any other authorized PTCL retailer.
Service Availability:
Walk-in at any PTCL One Stop Shop or authorized retailer