These days in Pakistan only few sectors are getting real time profit and mobile networking is one of them that is getting boom in Pakistan. Without any time waste here we are sharing Internet Packages Of Zong, Ufone, Telenor, Jazz, Warid. In 2015 last year 3G and 4G technology is offer by government of Pakistan through bedding system. Almost all companies that is providing telecommunication services in Pakistan, now providing 3G and 4G internet services in below side you can get details about all companies 3G and 4G internet packages. Through the chart you can make a compare the internet packages their prices volumes and subscription code. below the chart I have prepared a table in which you will get details of each package to get details about hidden charges behind each package in the form of Tax and other charges. So if you are thinking to buy a sim to sign in the fastest and the smoother internet on your hand set in a very convenient and affordable prices.
Compare 3G Internet Packages In Pakistan Ufone, Zong, Telenor, Jazz, Warid
Daily 3G Internet Packages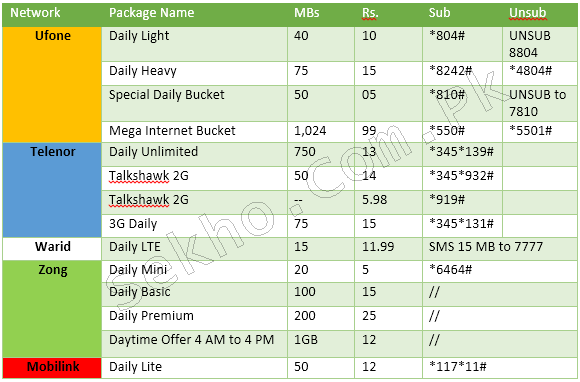 Weekly 3G Internet Packages
Monthly 3G Internet Packages
You May Click On Any Package Below Table to Get Details About That Package With Terms and Conditions:
Zong Internet Packages:

Ufone Internet Packages:

Telenor Internet Package:

Warid Internet Packages:

Jazz Internet Packages
Hope now it has been much easier for you to compare 3G Internet packages in Pakistan Ufone, Zong, Telenor, Jazz, Warid. Well according to my opinion Zong 3G internet package is the best then others. While if its signal strength is not good in your area then you can go with any other network which signal strength is good with your area. So keep on enjoying 3G and 4G fastest internet speed experiences!
Save