Those who are holding a website, blog or doing online businesses are required a Payoneer account to withdraw their money. Well there are two online companies which are famous for online money transferring; the first is PayPal and the second is Payoneer. It is because PayPal is not enabled in Pakistan so the Payoneer is the best alternative for this purpose. So here I am telling you the process about how to withdraw money from Payoneer in Pakistan in Urdu. Well here one thing which I want to mention here is the activation method is a different thing whiles the withdrawing money is a different method. I have discussed the activation method in the previous post (how to activate Payoneer card). So now the query is how to withdraw money from Payoneer card or account. When you have activated this card or you can say that your account is ready to use, now you have to link this card with your website or freelancing blogs through the following method. Keep on reading to get the answer for your query about how to withdraw money from Payoneer in Pakistan in Urdu.
How To Withdraw Money From Payoneer In Pakistan In Urdu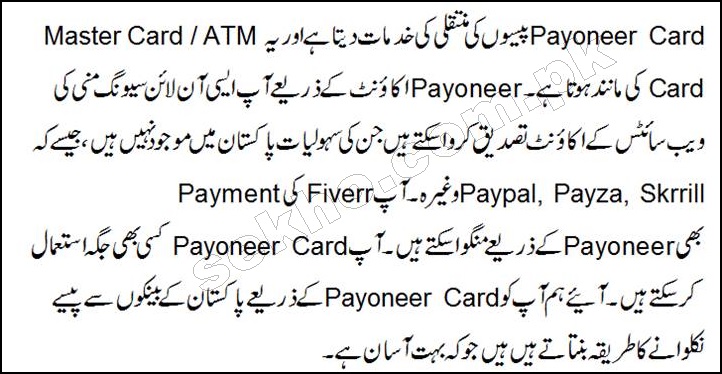 Link Your Payoneer Account With Your Website
For withdrawing the money from Payoneer Master Card you have to link your online earning website with your Payoneer account. For this purpose you have to do the following process step by step
In different websites, the option of withdraw money is different that is mostly found in the "selling" tab
There you will see different options for withdrawing the money including Payoneer
Select the option of Payoneer master card and enter your card number written on your card
Your Payoneer card if now linked with your website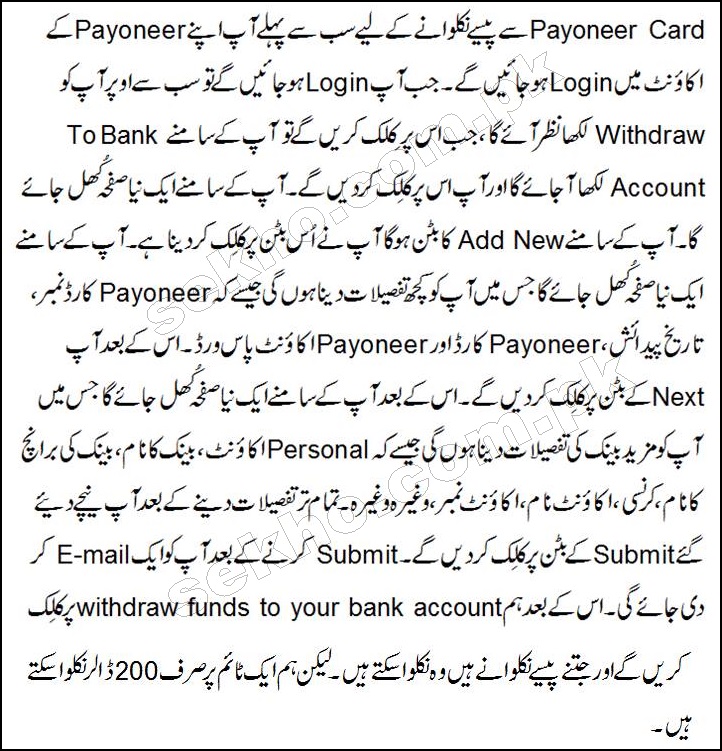 Payoneer To Bank Account
Login to your Payoneer account in your computer
Click on the withdraw option on the top of the page
Click on the "To Bank Account" option and then click on the add new button
Enter your information here including your Payoneer card number, contact number and other required information. After that click on the next button
Here you have to provide your personal bank account details and currency details
When all the query has filled click on the submit button
You will receive an email at your mailing address
Open that Email and choose the Withdraw Funds To Your Bank Account option
After doing the above process your Payoneer master card is now ready to use at any bank ATM. You can withdraw money up to $200 at any time from any bank (standard chartered is recommended)
Hence this is all the procedure about how to withdraw money from Payoneer in Pakistan in Urdu. I think this is enough information about this process, but in case you want to get any further information or confusion you can send your query in the following comment box.