How to transfer data from android to iphone the all procedure available on this page we give all method step by step that can very understandable for you so read it. If you have iphone and you want to Transfer Data from Andriod to iphone  than you have must backup of you data so for this you have to need connect your Android handset  with your computer  after this transfer all desire file, folder, Application, images and other servers right on that desktop system.Now your Backup is ready for Transfer to your iphone: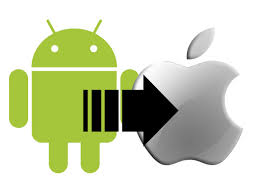 If You want to transfer your contact on your iphone than use below procedure:
For this, you first have to set up an application on your iPhone handset.
Now, open up your system and send that contact file to your iPhone.
If you want to transfer your Images than follow below procedure:
On your personal computer, open the applications of Apple.
By making use of a USB cable, connect your iPhone with your computer.
On the top right corner of your desktop screen, select iTunes.
Make a selection of the tab of photos and images and with the help of drop down menu, choose all the pictures and images that you want them to transfer to your iPhone.
Make a click on the Apply button so that pictures start getting transferred. As soon as, you will hit on this button, this process will get started.
Transfer other media to your iPhone:
In order to transfer other media to your iPhone, follow below written steps:
You have to make a selection of the tabs audio and video, the minute you are going to click on these tabs; these media will be transferred to your iPhone.
We hope you can understand easily all this procedure we try to explain each step. This is the fastest growing Technology website that provide best news, updates, regarding technology we give all telecom companies packages detail and activation procedure with example so keep in touch with this website and get lot of things.