Today I am going to tell you a very useful and important feature about how to make your Facebook account secure from hackers in Urdu tips. Facebook is a social media website that is so much famous than any other socializing websites like instagram, twitter or classmate etc. The reasons is FB provide a lot of use to features with an ease to understand and everything is just on a click behind. One can make several accounts for a sharing videos, photos and to pass a good time with entertainment. Now a days with the advancement of Facebook usage peoples are using this site to earn money through publishing and getting likes on a photo or video. Many brands and companies are managing their special pages to advertise peoples with their products and services. So along with these lot of benefits there is a hitch in Facebook which is hacking. There are various reasons for what an FB page could be hacked and here I am going to tell you the general tips to secure FB account from hacking. Although the management team has secure FC with a lot of latest limits and restrictions but still hackers are successful to hack a FB account but you can stay safe by following the below written methods.
How To Make Your Facebook Account Secure From Hackers In Urdu Tips
Make a strong password by adding numeric digits at least 8 to 9 characters
Must provide your contact number in your FB account making page so that you can receive any notification with your account
Try to sign in with your own PC and avoid signing in form other computers from different places
Never click on fake links that you see on the right or left corner as an add
Try of use a safe browser like Mozilla Firefox and Google Chrome
You can click on the image below to make it bigger so that you can read the image clearly and can follow these instructions to make your facebook account safe from hacking.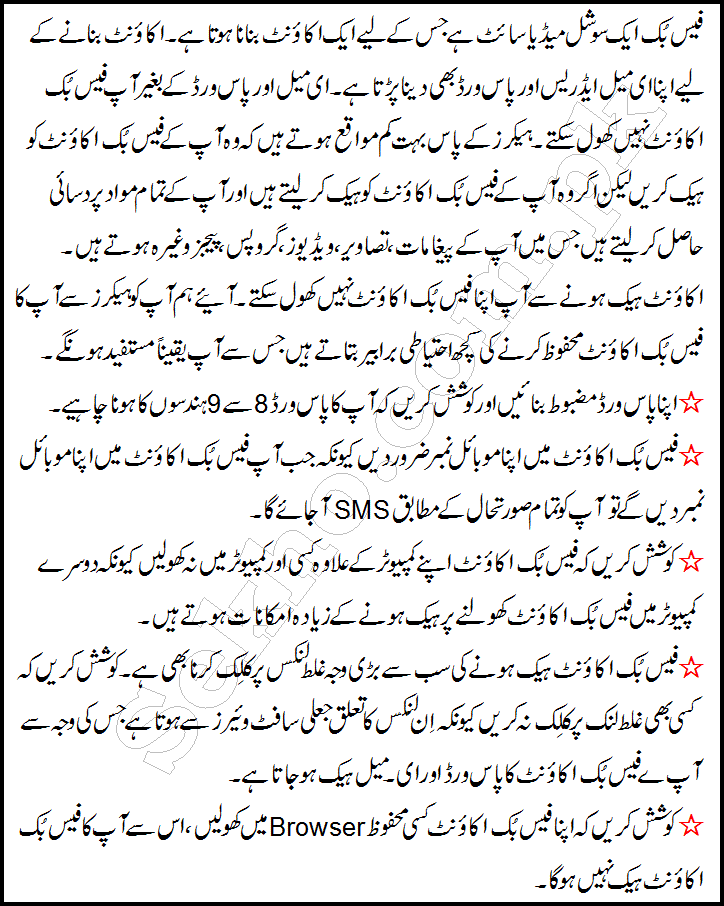 Hence this is all about how to make your Facebook account secure from hackers in Urdu tips and I am sure this page provide you a lot of useful information and your FB account is now safer than before. you can also share your comments and reviews with us via comments below.