How to add friends and family numbers in warid,jazz,ufone,zong,telenor all details with points are available on this page you can get the rate charges, Method, Procedure, so read this all post and get you desire information according to this offers. In Pakistan many companies provide the telecom service and due to competition they give cheap packages that is user benefit. Now these days all Pakistani telecom companies give FnF number package if you add some number in FnF list than you  get the some more cheap call or sms rates. we discuss on below all companies FnF number add procedure.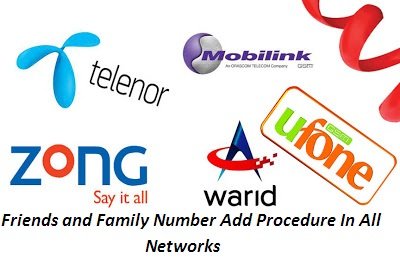 Friend and family services by Warid telecom.
Friends and family numbers depending on your  tariff plan. Warid give the option add or delete number in your Friends and family list. Basically when you add number in FNF list when you get the free air time on that number.
Procedure of adding FNF numbers in Warid:
If you add number through SMS thanYou open the message folder on your mobile and also open the write new message and type "Add" and give Space and enter the desired number for example 0323,0321,0322 separated by space and Add 0321XXXXXXX.
You have option to add or Del any number but with in limited you can add or Del only 5 number in one SMS.
After this all procedure send this message on 129 for processing.
In last step is you receive an automated SMS after a few moments that are specifying the processing of the query.
FNF Number view Method.
If you want to view your friend and family number simply type "List" and send this message to 129 and you get the list of FNF numbers. When you add  the Friends and family numbers than you can get free air time against this package the details of the free air time depend on you tariff plan.
Cost of SMS.
When you add any number than  company charge against each number addition or deletion list is RS 2+tax per SMS.
 Friend and family services by Ufone telecom:
Through U-Circle prepaid provides an easy way to call Friends and Family At Ufone we make it easy for you to cell friends and family with U circle.  Now you can talk more for less with most economical retes to call your Ufone Cricle.
only select upto 5 Ufone numbers or 4 Ufone number and PTCL number and enjoy the special calling rate of 45 paisas per 30 seconds.
Mumbers Allowed                                          4Ufone and 1 PTCL
Call Charges                                                       45 paisas
Note:
30 second billing applies *
19.5% FED on usage and other taxes on recharge or bill apply.
How to Activate U Circle?
Activate your selected numbers by calling 363 from your Ufone or by visiting your nearest Ufone Service Center/ Franchise or simply send 5 numbers (4 Ufone and 1 PTCL numbers  in an SMS to 363.
Friend and family services by Telenor Telecom:
Telenor Talkshawk 24 ghantay package customers can now avail the free unlimited calls to 3 FnF numbers for a daily charges of Rs.9.99+tax. Obviously it is a little costly than the Jazz offer and is very costly if you look at the Ufone offer of only Rs.2 per day.
The other call rate comparison of Telenor is also greater than Mobilink. Following is the procedure to avail the unlimited calls offer of Telenor Pakistan:
Subscription and Validity:
Dial *345*300# to subscribe
Subscription price: Rs. 9.99+tax (Rs. 11.94 inclusive of tax)
Offer is for Talkshawk 24 Hrs Subscribers Only
Validity: Customers can make Free Calls on day of subscription till 12am (midnight)
The offer applies ONLY on Friends & Family numbers :
TalkShawk 24 Hrs subscribers can make 100% Free Calls on upto 3 Telenor FnF numbers
To add FnF numbers call 555 or write FnF and send SMS to 345 (charges: Rs 5+tax per FnF administration)
To administer FnF through SMS, use the following:
To add an FnF send "Add <slot no> <number>" to 345
To delete FnF send "Del <slot no>" to 345
To edit FnF send "Edit <slot no> <number>" to 345
To view FnF send "FnF" to 345 Where <slot number> is the position at which you want to place the FnF number at (will be from 1 to 3) and <number> is the Telenor number that you want as your FnF
Friend and family services by Zong Telecom:
Zong M9 offers 50% Discount on Friend and Family Dialing,M9 Discount, Zong M9 is now offering 50% discount on Friend and Family Dialing, now you can call to your FNF numbers at half rate. This offer is valid for all Packages of M9. You can now avail 50% discount on your new and existing FNF numbers. This discount is for all 5 FNF Numbers. This offer is for On-Net dialing only (M9 to M9 and M9 to Zong). The total Allowed Friends and Family Numbers are 5.You can modify or Change you existing Friend and Family (FnF) number By SMS or by login to your online M9 account.
Charges:
Charges for FNF selection / Modification: Rs 5+Tax
How to Add / Delete / Modify Zong FnF number by SMS
Addition of FNF add31XYYYYYYY Send to 299
Deletion of FNF del31XYYYYYYY Send to 299
 Friend and family services by Jazz Telecom:
Jazz brings an exciting offer for its family of 30 million customers yet again! Jazz Na Qabil-e-Yaqeen Offer which gives you the freedom to make unlimited calls for 24 Hours on 3 Friends & Family numbers! Whether you want to make short calls or want to talk your heart out this offer is for you!
Just switch to Jazz One package and dial *108# and start talking to your Friends and Family for Rs. 6.99 per day.
Offer is available only on Jazz One
The offer will be renewed automatically and customer can unsubscribe from the offer by dialing *108*4#
With this offer customer can make free calls on 3 On-net FnF number any time of the day
19.5% tax apply on the above mentioned price
Procedure for Package Conversion to Jazz One:
For the convenience of customers, the package migration will be absolutely free (for limited time period) during the promotion duration. Subscribers from other Jazz Packages can convert to Jazz One through following procedure.
Call 123 from Jazz connection.
Press 3 for package settings.
Press 0 for package selection
Press 5 to select Jazz One
Procedure for Adding FnF Numbers:
Call 121 for addition / modification of Friends & Family Mobilink numbers
Dial 121 from your Jazz connection
Press 1 for FnF number administration
Select your FnF numbers
Press 1 for the first number OR
Press 2 for the second number OR
Press 3 for the third number
      Enter your FnF number:
Press 0 to enter your number(Enter your number starting with 0300, 0301, 0302, 0303, 0305, 0306, 0307 or 0308 – whichever applicable)
Confirm your FnF number
Press 0 to confirm your selection