Zong introduced a new method to recharge the balance online and bill pay with debit or credit card for its valued customer. You can recharge your balance without any hurdle and no need to go any kind of shop or franchise where you pay bill. It is very helpful for you that can pay bill any time in a day by using debit or credit card and you can recharge Rs.  999 in a day and Rs. 2000 bill pay in one day only. No time limit to using this online service but your internet speed is must be good that you can use it for only 2 to 3 minutes for processing. Prepaid and postpaid both customers can recharge its balance in his mobile without any worried.  Zong introduce this online service by the collaboration of UBL bank under o2o project and its method is very easy for understanding it.
Zong Recharge Online or Pay Bill with Debit or Credit Card
There are few points which will help you to recharging the amount and pay the bill by debit card.
First visit on this link zong.com.pk and you will see this page like as

There will be many instructions that you must be read before proceed it some of them is given in detail below
A new page will appear you and you will mentioned required information like mobile number and amount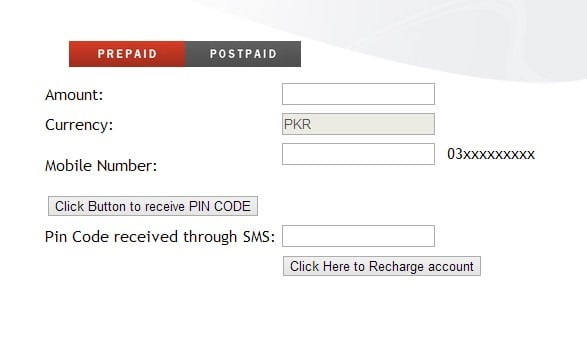 You will receive a SMS in which PIN Code will be mentioned and put it on this page completely and then you will be directed to the next page
  This page will be powered by UBL and Etisalat and requires you to fill the given details like card number, expiry date and CVV2 code that will be 3 digit code in back side of your card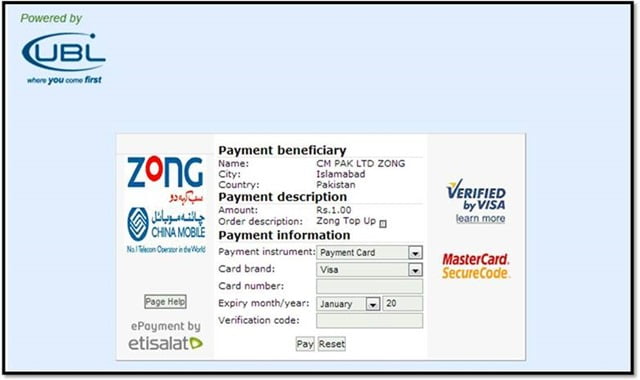 You will receive a acknowledgement
If you face any kind of difficulty then just dial 310 or your card issuing bank
Terms and Conditions
Prepaid customer can transact upto Rs.  999 and postpaid customer can transacted only Rs.  2000
All customer can only do a maximum of two transactions by using the same credit card or debit card in one day
Check your internet connection during the transaction
Before proceed the transaction, recheck the information and details which you entered
Note
Some Banks require you to activate a session for online transactions through a call on their helpline.
If your transaction is denied, please contact your card issuing bank to activate the session for online transactions