The latest Shab e Barat SMS Shayari Poetry 2021 is available in Urdu and English if you want to get it with Shab e Barat short information then yes you are in right place. Islamic day and Islamic values are very important for all Muslims. According to Hazrat ABU BAKAR R.A (wording are not like it) "On this night and of Shabaan Allah Pak Spread his mercy on the earth and pardons all the sinners except the Polytheist the Hypocrites and those who harbor ill-feeling towards their brethren". Further, a special point must also be made to visit the cemetery on this night and spend a long time there, reading and praying for the deceased. So, check out the collection of poetry related to Shab e Barat 2021 on this page.
Shab e Barat SMS Shayari Poetry 2021
Finally, on the 13th,14th, and 15th of the Islamic month of Sha'ban one must fast not only to end one's AMAL NAMA with a good deed and begin the new AMAL NAMA with a good deed but also because the Holy Prophet has said, PEOPLE, LIGHTEN AND CLEANSE THY BODIES BY WAY OF FASTING DURING Sha'ban, SO THAT SHALL BE EASY AND HELPFUL TO YOU FOR THE FASTING DURING RAMADAAN. WHO SO FASTS THREE DAYS DURING SHAABAN, ALL HIS PAST SINS ARE WIPED OFF." "O ALLAH, GUIDES US TO THE RIGHT PATH AND GRANT US WISDOM TO DO WHAT THOU HAST ORDERED SO THAT WE MAY RECEIVE THY FAVOUR." Now we will hope we all celebrate this night with prays and Namaz now in below side you can get Shab e Barat SMS Shayari Poetry 2021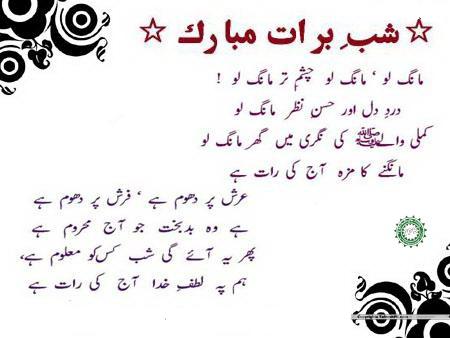 Mid-Sha'ban 2021 will begin on the evening of
Sunday, 28th March 2021
and ends in the evening of
Monday, 29th March 2021
Shab e Barat SMS 2021:
Those who are looking for the Shab e Barat SMS 2021 can check the below list in which we are sharing the SMS. You can copy this SMS and send them to your family and members. Asides from this you can also use them for Whatsapp and Facebook stories and statuses.
Hazrat Ali (RA) Se Riwayat Ha K Nabi Pak (SAW) Ne Irshad Farmaya
"Jab Shabaan Ki 15vi Shab Ay
To Tum Rat Ko Qayam Kro
Yani Nawafil Parho
Or Din Ko Roza Rakho…
……………………………….
Mujhy pukaro mujhi se mango,

Me tumhari duayen sunny wala hun.

ALLAH (azzo wajal)

Shab e Barat Mubarak.
……………………………
Hadees:
Jis Nay Shahban Kay Month Me Aik Baar
"SURAH IKHLAS" Perhi
ALLAH Ne Us Kay 50 Sal Kay Gunah Baksh Diaye…………………………..
'[;] !
[;] ,-"""-,
[;];;;?__?;;;[,]
Shab E Barat Mübårik
Hazoor S.A.W.W Nay Farmaya
Jo Shakas Shubraat Ke Mubarak Day
Usay Janat Ke Bashart Dedo
…………………………
Shab e Barat Poetry 2021:
In the following side, we are sharing the Latest Shab e Barat Poetry 2021 in Urdu and English. So you can simply download this poetry or simply can copy and paste and use it for your concerned purpose. So check the latest poetry for this blessing night.
Rahmaton ki hai yeh raat,
Namazon ka rakhna sath,
Manwa laina rab say her bat,
Duaon main rakhna yaad,
Mubarak ho aap sab ko
Shab-e-Barat
……………………………………….
"Rehmaton Ki Aai Hy "*Raat."
* "Dua" Hy Aap sada Rahen Aabad
"Dua" Men Rakhna Hamen B Yaad
"Mubarak" Ho Apko "*"
SHab-E- Baraat"*!
………………………………………………….
Jo Aaj Ki Raat 3 Martaba Surah Yaseen Parhay Ga
Allah Uski Umar Me Barkat Rizk Me Izafa Aur Farakhi A
ur Naghani Afaat Say Mehfooz Rakhay Ga
Shab-e-Barat Mubarak Ho (sura yaseen)
………………………………………
Ya Allah Jisne Bhi Sab E Barat Ke Raat Aap Ki Ebadat Me Guzari
Ya Alah Tu Un Sab Ki Duaon Ko Kubul Karna
Aur Jo Nahi Kar Paye Unhe Hedayat Dena,
Aur Unki Bhi Magfirat Karna
Aaaaaaaamin…
…………………………………………………….
Aaj Ki Raat
Qismat
Zindagi
Aur
Moat
Kia Faislon Ki Raat!
Yani 15 Shaban hai,
Ager Meri zaat say kabhi koi takleef pohchi ho to mein dil say maafi mangta ho,
Kia pata meri zindagi ka pata gir jaye aur aakhirat mein kisi dil aazari kerna pay meri pakar ho.
……………………………………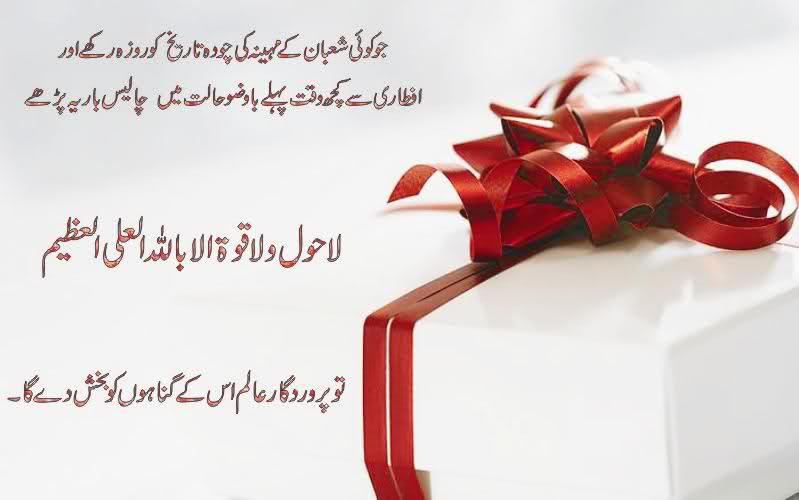 You can send these SMS Hadis and poetry to your family members, friends to sorry them if you have ever heat them. We must apologize for our sin before Allah and we must make an appointment to do good works in upcoming life. After Shab e Barat SMS Shayari Poetry 2021, if you want, get more information about  Shab e Barat then you can visit the Shab e Barat Nawafil and Ibadat page.