There are eleven officer ranks and their stars and badges respectively which one can obtain with the time duration in serving Pak army. In Pakistani Army the badge is stipend on shoulder that represents the rank of that army man. Career in Pakistan Army could be start after intermediate (FSc) or any equivalence qualification for officers and a candidate is called as cadet. The initial rank in Army is second lieutenant along with one star after passing its exams successfully after inter or equivalence. Once a cadet if hired and appointed by the ISSB he is sent for a 2 years duration and after the successful completion of this 2 years training session you are hired as second lieutenant through PMA long course in regular commission. Similarly when you are hired in army you are not fixed for one post as gradually as you pass the exams and prescribed durations your rank and badge getting superior till you become a general or field marshal in Army which is the highest rank in Pak Army. So here in this post I have discussed all about Pakistan army ranks and badges with salary pay scale which will guide you to be familiar with your career in Pakistan and where you see yourself to be an army man. Well it is right place for a man for his right career.
Pakistan Army Ranks And Badges With Salary Pay Scale
Pakistan Army Ranks and Badges
Pak Army ranks and badges in Urdu is written and presented here below in image while the Basic Pay Scale (BPS) for each rank in Pak Army are written in a table below it…
Army Rank
BPS
Field marshal
(5-Star)
BPS-Apex
General
(4-Star)
BPS-Apex
Lieutenant General
(3-Star)
BPS-22
Major General
(2-Star)
BPS-21
Brigadier
(1-Star)
BPS-20
Colonel
BPS-19
Lieutenant Colonel
BPS-19
Major
BPS-18
Captain
BPS-17
Lieutenant
BPS-17
2nd Lieutenant

BPS-17
Officers Ranks:
Junior Commissioned Officers Ranks: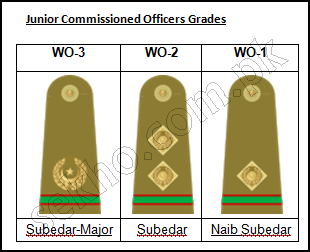 Non-Commissioned Officers Ranks:

Pakistan Army is one of the best land based armed force of the world that contains 550,000 active troops which are serving in different corps of medical, engineering and soldiers for the land based defense of the Pakistan's land. It hire well acquire individuals and give them a full practice and career build opportunities which make a person motivated and patriot for it. it hire at initial level of second lieutenant and gradually they become general. Above all you are also informed that Pakistan Army has equal opportunities for both males and females to join army and serve it as get the ranks and badges correspondingly and thats why I present this post for Pakistan Army ranks and badges with salary pay scale and I am sure you are now clear that how you can acquire posts in Army after its initial joining.