9th TDCP Cholistan Jeep Rally from 14th to 16th is organized by Tourism Development Corporation of Punjab. This is a rally raid type of off road race, organized by the TDCP in Pakistan. The event is annually run in the Cholistan Desert venue. It was first introduced in 2005 by Tourism Development Corporation of Punjab. The event is run by the Government of Punjab. The rally held near the Derawar Fort in Bahawalpur. Approximately one hundred people are participating in this great competition. This is the Biggest Motor Sport Challenge Jeep Rally by government of Punjab. Approximately one Lac visitors visit this great event.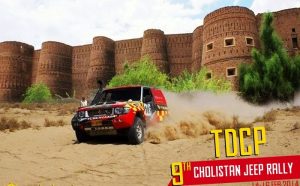 This Rally organizes in Cholistan Desert that is the one of the world famous desert. The main propose of this event is create lot of fun for Pakistani peoples and also for Tourist. Jeep Rally organizers open Registration for all over Pakistani Peoples. Registration First come First bases so hurry up if you want participate in the event. This event has lot of Feature for Sponsors they Sponsors have opportunity to become part of this great Pakistani Event so lot of fun and healthy activity for tourist. In this competition many Culture Show, Fire Works, Camel Dance, Camel Safari Show also arrange for people fun and you have one more opportunity stay in Camp at Cholistan.
Key Hightlight:
Wonderful Attracttion for Tourist
Great Desert Moque
Camp Stay with Camel Safari
Cultural Show
Fir Works
Royal Palaces and Forts.
Contact for Participants Registration:
0300-4200168
Contact for Tour Booking:
0333-4929943-45
Contact for sponsorship:
0300-9430576