Online earning is getting heap these days and peoples are rapidly getting fetched with this business.  Similarly, there are different companies that are providing opportunities for making money online at home without investment. In this way, one of the most trending and famous works is online ads clicking jobs. A common user considers it as the easiest and the simplest work which he or she can do and can earn a good amount per hour, per day, per week, or per month. But do you that making money online in Pakistan by clicking is fraud? Yes of course! It is just like a cobweb that looks like an existing thing but when we touch it, it splits like smoke.
What is Online Clicking Work?
Most peoples are well familiar with this work but those who don't know about it are informed that there are some online websites or companies that publish ads clicking jobs at home without investment. They offer different kinds of files at different prices. So when you buy any file they give you access to go to the admin site of that file and then you see ads on your screen. You just have to click on these ads as per the decided agreement and in Return Company paid you. But you are informed that making money online in Pakistan by clicking is fraud…
Make Money Online In Pakistan By Clicking Is Fraud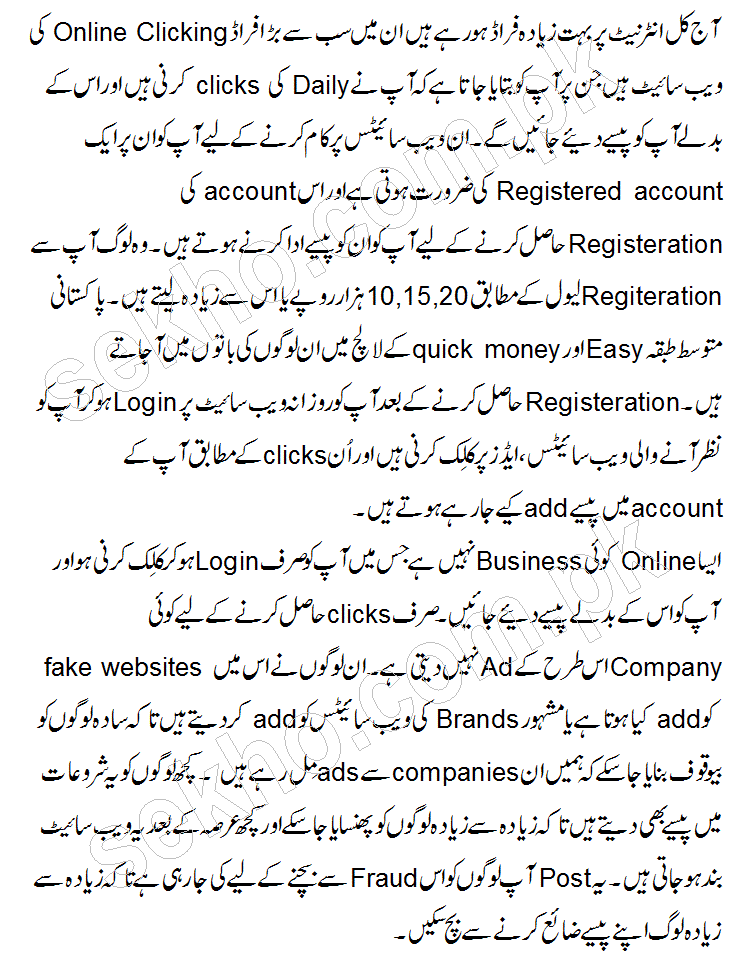 Strategies to Attract People
Companies have made different valuable strategies through which one considers it as authentic and profitable work. These strategies are as below.
They have an officials website with full source
They receive the amount through banks
Physical appearances i.e. a proper company office
Written statements for each paying and receiving
They even pay money in starting work to show off a charm and to attract more peoples
These are very common but authentic strategies to convince a simple and common person. But you are suggested and advised that there are so many best ways for make money online from home, which you can adopt. But don't trust on a work like online clicking….
What Is Fraud
As I have written in the above passage that these fake ad-clicking companies in Pakistan make a strategy to grab the people. But after passing some time period they get vanished. Their official website was removed from Google, and their physical office keep on closed without any intimation or report. ads stop showing on your account which they have given you.
The number of ads shown becomes less than the decided number of ads. They made a cock and bull story all the time against your arguments. There are so many reasons for it in which one of the most attractive reasons is it is home based online business that one can do at his/ her own decided timings.
Keep on reading this post to get facts and figure out my topic to make you aware about making money online in Pakistan is Fraud even with investment or without investment.
So hopefully you are all now well aware of this topic that making money online in Pakistan by clicking is fraud. There are so many people who have experienced this fraud. So you don't fetch with it and keep yourself safe and away from any type of clicking work online. You can do online article writing job, or you can do different works which will be the best and most reliable halal source for making online money. In the end, if you have any further queries or questions in your mind relating to this topic make money online in Pakistan by clicking is fraud.
Save